Varkatzas: A True Mibbian Story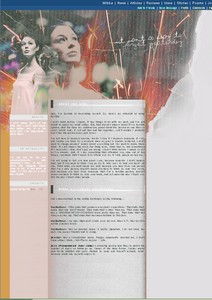 Varkatzas, also know as Jessica Lynn Emerson, is a Mibbian many people seem to know or have heard of. Maybe at one point in time you have talked to her in the What Are You Thinking thread, or maybe she has helped you in the Help thread. Either way she is a friendly face you'll see everywhere.
According to Judas Ryden, "she's an exciting and colorful character with a warm smile and cheerful disposition."
ChemicallyImbalanced said that, "she definitely very outgoing. She likes to talk to everyone and is friendly. Not to mention she's the most helpful person ever.I met her on WAYT ages ago, maybe it was about 2 months ago, and then it was only recently that we traded MSN's and we started talking like everyday."
Varkatzas is currently fourteen and entering the 8th grade living in New Jersey. If you wish to surprise her with birthday greetings, I suggest you do it on November 26th for that's when her birthday is. Jessica, or Jess, just so happens to love the color purple and eating much ice cream. She is just as normal as you or I.
Jess, was not always a Mibbian; she was once a Quizillian. When asked why she left, she said, "I was getting sick of Quizilla. The new Quizilla layout sucked and I knew Mibba would be better after lurking for a bit. I made the account the first of this year and I kind of left it for three weeks. But when I started posting and using the account I realized just how great the site was ."
Like most people, Jess has goals. Just as I aspire to one day be a story editor, she wishes to be a moderator. Many people agree that she could be one. She is always browsing around finding people to help or things to fix. Though if that can't happen she is happy just helping people.
Also like us, she has friends here and in real life. Some of her closet friend online include From Hero To Zero, Ohbseen, ChemicallyImbalanced, Pikachu, and DarkenedHearts.
She has a few good real life friends too! Elizabeth has been Jess's best friend since 2nd grade and she probably knows more about her than anyone she knows or has have ever talked to. Chris is an asshole at times but they have been close for the past two years, he keeps her sane in class with teachers that are mean.. Robin was met in 6th grade and they have been great friends since.
Being a rock star is something she wants to be when she gets older. Her reason behind it is a good one; "Just to prove all the stereotypes of rock stars wrong. And so I wouldn't be one of the rock stars who only care about the money or listen to their security. I mean, they don't let stars sign anything and makes fans pay to meet the stars after shows. It needs to stop."
Her home town is a simple place. It's a town with a shopping center and according to her, "full of racist pricks" that she doesn't get along with. Her home life is pretty normal as well. Her father left she she was five years old and has gotten over it for the most part. A love-hate relationship is maintained between her and her mother. Because she is on Mibba so much, she doesn't too all to much socializing.
Just for the fun of it, I asked her what a 'Dujo' was. "A robot that runs several sites and is decidedly human," was her reply. She clearly knows how to joke around.
I hope this article has persuaded you to talk with this darling girl and strike up a friendship with her like I have. She is one amazing person and she not go unnoticed.
Latest articles