A New Star is Born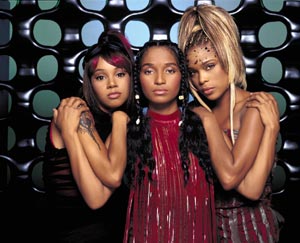 Everyone knows about the most successful girl group of all time, TLC. Unfortunately, only two of the members are left today, but the third girl is still in our hearts forever.
Lisa Nicole Lopes was born on May 27th, 1971. She was born to Wanda and Ronald Lopes, Sr., and had two siblings: Ronald, Jr., and Reigndrop. Before she was in TLC, Lisa was already very artistic and did some rapping of her own. She was very creative. But behind all of that, she came from a problematic background. Lisa told stories of her abusive father and their shared alcohol problem.
In 1991, she set out for Atlanta, Georgia to pursue a career in music. She met Tionne Watkins and Crystal Jones. They formed the band Second Nature, but it was later renamed TLC to match each of their initials. TLC was eventually managed by Perri "Pebbles" Read. She thought Tionne and Lisa were great, but thought Crystal wasn't good enough. Crystal Jones was replaced with Rozonda Thomas. To keep their TLC initials, they all adopted nicknames. Tionne became T-Boz, Rozonda was Chilli, and Lisa chose "Left Eye," saying that someone once told her she had beautiful eyes, especially the left one.
TLC's first album, Ooooooohhh... On The TLC Tip, came out in 1992. Lisa did all of the raps and some costume designing, and also worked on the album cover. She wore glasses with a condom over the left eye, which helped to promote the group's message of having safe sex. After a while, she opened up her own producing company called "Left Eye Productions." One of the groups she mentored, Egypt, accompanied her on a trip to the Honduras.
In 1994, Lisa set her boyfriend, football player Andre Rison's, mansion on fire. To get revenge on Andre for being unfaithful and abusive, Lisa burned his new tennis shoes in the bath tub. However, the bath tub soon melted and ended up completely engulfing the mansion in flames. She pled guilty to one count of arson and was sentenced five years on probation and to enter an alcohol program. Her time at the program is what sparked inspiration for her rap in the song Waterfalls on TLC's second album CrazySexyCool.
Problems begin to arise after the Arson incident. Lisa and the rest of TLC filed for bankruptcy in 1995. She also began to become very introverted and tried to find out her purpose. Trips to the Honduras became more frequent, in which she would visit a healing doctor for cleansing sessions. Lisa began to get into conflicts with the ones around her. She issued a 'contest' called The Challenge, where all three TLC members would produce solo albums and the fans would decide who was the best. T-Boz and Chilli did not accept the challenge. Eventually, they settled their differences in 1999 and released their third CD, Fanmail, the same year.
After Fanmail was released, Lisa got more involved in her solo career. She recorded her first album, called Supernova. It was supposed to be released the day to ten years that Lisa's father died, but her label cancelled the release. This did not stop Lisa, as she began recording a second album and lent her voice to several other artists, such as Mel C and N*SYNC. Supernova was eventually released internationally. One track off of the album called A New Star is Born was written about her father and herself. Other tracks contained more personal experiences.
After her album was dropped in the United States, Lisa felt that she needed a break. Lisa, her brother, sister, and several other family members and friends took a 30-day trip to the Honduras, a country in Central America. Lisa had a diet regime for them, and introduced them to different healing techniques. She began to feel that, later in the trip, a spirit was haunting her. One night, the vehicle Lisa was in accidentally struck a young child. The boy later died from his injuries. Lisa paid for his hospital and funeral expenses. After the accident, she reported that the little boy's last name was Lopez, and she felt the spirit killed him when it was supposed to kill her.
On April 25th, 2002, Lisa was driving a Mitsubishi Pajero when she suddenly lost control of the car. The car swerved into a ditch and rolled over several times. Lisa, although wearing her seatbelt, was thrown out of the window and died of head trauma. Out of nine people, she was the only casualty. Her funeral was held in Georgia, and her headstone contained the lyrics to her solo in Waterfalls.
A documentary on the VH1 channel, entitled Last Days of Left Eye, showed the chilling final days of Lisa. Her death scene was captured on film. Viewers saw Lisa and her crew driving peacefully, and then they hear a swerve and the frantic screams of the passengers. The tape was cut and edited before seeing the actual crash, by request of her family.
The loss of Lisa shocked and deeply saddened people around the globe. Lisa died while TLC was still recording their fourth album, 3D. T-Boz and Chilli made a decision - after finishing and promoting 3D, they would retire. They felt Lisa could never be replaced.
Although Lisa has been gone from the Earth for a little over five years, she is certainly not forgotten. People say she was a kind-spirited girl, full of energy and life. Lisa would never turn away a fan, and loved what she did.
"I do not believe in death. I believe in transformation." – Lisa Nicole 'Left Eye' Lopes in an interview shortly before her death.
Latest articles