Funeral For A Friend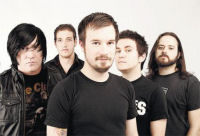 Funeral For A Friend are a rock band from Bridgend, Wales, who formed in 2001 and their current line-up consists of Darran Smith, Gavin Burrough, Kris Coombs-Roberts, Matt Davies-Kreye and Ryan Richards. They have released four studio albums - their most recent being their self-financed album "Memory & Humanity", which they released on their newly-formed record label, "Join Us".
In 2002, Mighty Atom Records approached the band for a two-album deal, and they recorded their first two EPs - Between Order And Model, and Four Ways To Scream Your Name - in August of 2002 and April of 2003 respectively. Both EPs are out of print and are highly sought after by fans of the band.
In the October of 2003, Funeral For A Friend released their first album, "Casually Dressed And Deep In Conversation". It went into the UK charts at number 12, and went gold. The album received very positive press and saw three top-twenty singles come from it - Juneau (#19), She Drove Me To Daytime Television (#20) and Escape Artists Never Die (#19).
In 2005, they signed to a major label - Atlantic Records - and they released their second album, Hours, in the June of that year. It went in at number 12, and went gold in the same number of weeks as Casually Dressed did. Hours saw Funeral For A Friend take a more melodic direction with their music, and also featured unusual methods of recording, such as singer Matt Davies-Kreye recording the vocals for the song "Drive" whilst in a moving car. It also saw the first and only instance where they used a drum machine; this was for the song "Sonny." In the August of the same year, they won the Kerrang Award for "Best British Band".
Tales Don't Tell Themselves, their third album and a concept album about the sea, was released in 2007 to mixed press. Although it is their highest charting album to date - it debuted at number three in the UK charts - it is also their lowest selling album to date, owing to the fact that the songs weren't as strong or memorable as they had been in their previous releases. This album split their fan-base down the middle, with half of the fans saying it was their best album to date, and the other half accusing them of selling out to their major label.
In September of 2008, it was announced on their MySpace and forums that Gareth Ellis Davies (their bassist who joined the band just after they had finished recording their first EP) had left the band, citing tour fatigue, and he was replaced by Gavin Burrough, who had been a long-time friend of the band. The next month, Memory & Humanity was released and this showed the band returning to their roots with a more Hours-esque album. It peaked at number 17 in the UK charts.
So what is the future for Funeral For A Friend?
In a recent interview, Matt confirmed that they are hoping to play a few festivals in Summer, and that they're planning on writing some new material with Gavin at the end of 2009.
One thing is for sure - the future is bright for Funeral For A Friend.
Latest articles