Phyllis Wheatly, an African Poet in America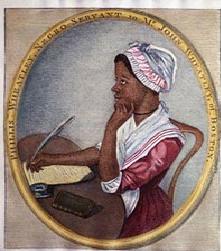 Kidnapped from the Gambia
Phillis Wheatley was born in modern day Senegal, which was Gambia, West Africa, in 1753. We do not know her exact day of birth although we do know that when she was kidnapped from her homeland, she was 7 years of age. Phillis was kidnapped and sold into slavery in Boston, Massachusetts. She was named Phillis after the name of the ship that brought her to American, The Phillis. She was bought by John and Susanna Wheatley as an attendant for Susanna. She was baptized at the Wheatley's church, which was the old South Meeting House.
Learning to Read & Write
Susanna and her daughter Mary taught Phillis how to read and write in English. She learned fairly quickly. After 16 months, Phillis was reading from the Bible, astronomy books, Greek and Latin classics, British literature, and geography and history books. Susanna and Mary also discovered that Phillis had a knack for writing beautiful words. Her way with words was so unique that Selina Hastings, the countess of Huntingdon, financed and encouraged the publication of her book when she came to Europe in 1773.
The Way She Wrote
Phillis used a style of writing, called elegiac. Elegiac poetry style is written like an elegy, which is a type of poetic metre that is used in a poem that is expressing sad emotion. Phillis knew Latin well and that enabled her to write in a short epic style. Wheatley wrote the elegy for evangelical Methodist minister George Whitefield. Upon his death, when his elegy was read, it brought Phillis great success. Phillis was famous in the United States and in England for her poetry and this eventually bought her her freedom. She was freed on October 18, 1773.
A Test of Literacy
In the time that Phillis lived in, white people did not think that blacks could write something as beautifully as Phillis did, so she was put to trial. She was examined by a group of Boston luminaries, or people of great knowledge. This group was made of well respected men, included John Irving, Reverend Charles Chauncey, John Hancock, Thomas Hutchison (the governor of Massachusetts), and Andrew Oliver (lieutenant governor). They approved to everyone that Phillis had indeed written the poems on her own and an attestation was published in the preface of her book to ensure to everyone who read it and that she had written everything in her book and that it had come from her mind. A black woman's mind. A wonderful poetess' mind. This proved to American's that black people could write as well as blacks and just as beautifully. She also created two new genres in American literature: Black American Literature and Black Women American Literature.
A List of First
Phillis Wheatley accomplished a few very important firsts' in history for African Americans and women in general. The first one was that she was the first African American to publish a book. She wasn't just the first African American woman to publish a book but she was the first African American to publish a book on American soil. The second was that she was a very accomplished woman of color who was extremely skilled with words. It was rare and extremely uncommon to find African American women who were skilled with words in English, let alone black women who could read and write in English. I say in English because the African women who came directly from Africa could read and write in other languages, one of them Arabic. The third accomplishment was that she was the first African American woman to earn a living from writing. Phillis might not have earned much from writing, but she was the first African American woman to earn money from writing. Her poems weren't just published as anonymous. She was paid the royalties. As for making her first for women in general, she was the first woman, who was a writer, to be encouraged and financed by women. These four accomplishments were important to the future of African American and women's literature alike because it showed what African American's could achieve. It showed what women could achieve.
1773-1778
In 1773, Mrs. Wheatley sent Phillis to Paris, France with her son, Nathaniel Wheatley, because she wanted Phillis's fragile health to improve. While she was in France, she had her portrait painted. It is a rare portrait of her in a party dress with earrings on and her hair up. It is a very lovely portrait, indeed. While Phillis was in Paris, she had a wonderful time and her health improved. She met a lot of important people. Her trip in Europe was cut short, however, because in 1774, Mrs. Wheatley called on Phillis to come back to America immediately as her health was degrading. Phillis and Nathaniel came back to American and made it there before Mrs. Wheatley died. Soon thereafter, the colonies were at war. The people who had loved to read Phillis's poetry were mostly loyalist and they fled to Canada. This did not discourage Phillis. She still wrote her poetry, mostly on the subject of the Revolutionary War and independence. Phillis was given her freedom shortly before 1778, when Mr. Wheatley passed away. Shortly after, Phillis married an African American grocer named John Peters.
Life after Freedom and Marriage
After Phillis was freed and had married, she and her husband lived in poverty. His grocery business failed. Every other business attempt failed, also. Phillis had to take up work as a maid. The work as a maid was hard for Phillis as she had never actually worked as a maid while living in the Wheatley's household. Phillis bore her husband 2 children, both of which died at a young age because of their frail and delicate health. When Phillis was having her 3rd child, she died. The year was 1784, a year after American had won its independence, and she was 31 years old. The child also died a few hours after she did. Phillis last years on Earth were her hardest years.
Several days after her death, three of Phillis poems were published. It was too late, however, because Phillis was dead and the money was of no value to the poverty-stricken dead poetess. The third poem celebrated America's newfound independence.
Phillis Wheatley was an extraordinary woman who set the path for the African American and female poets of today. Her poetry was mature and she matched wits with those who were supposedly her superiors. She proved that, even though she was African, she could achieve things that supposedly only white people of her day were able to. She spoke up for what she believed in through poetry. She is a hero.
Latest articles