The Diary of Helga Deen, Written at Vught Concentration Camp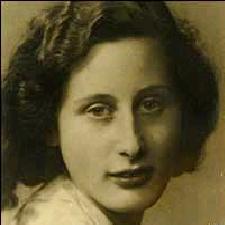 Helga Deen wrote her diary in a three-month period of time in 1943, the year she was eighteen, and also the year she died.
Born in Stettin, Germany, on April 6, 1925, she was deported to Vught camp with her parents and brother. This in itself was a death sentence- people 'transported' from Vught were always brought to the Auschwitz and Sobibor death camps to be slaughtered.
Her diary is in the Tilburg Regional Archive. "This is an extraordinary find. Very few diaries have been written in the camps because of the conditions of life there", David Barnouw of the Dutch NIOD institute for war documentation told AFP. "If diaries were written in the camps they were rarely recovered, because people's luggage was taken away when they were deported", he explained. Deen's diary is only the third so-called camp journal discovered in the Netherlands, and the first written by a woman.
The diary shows how desperation slowly set in. In an excerpt dated June 6, 1943, just after 1,300 children were deported to Auschwitz and Sobibor death camps in Poland, she wrote: "Transport. It is too much. I am broken and tomorrow it will happen again. But I want to (persevere), I want to because if my happiness and willpower die, I too will die."
She wrote the diary, in fact, to her boyfriend, Kees van der Burg, who died in 2004. According to his son, who turned it in shortly after his death, he kept it 'like a religious relict'. Also according to said son, he kept it with a lock of his hair until his death.
In her diary, Helga tells Kees of the chilling and mundane facts of life at Vught, and her utter despair at watching children being transported to their deaths. "Even though everybody is very nice to me, I feel so lonely. Every day we see freedom from behind barbed wire," Helga Deen wrote in extracts made public Tuesday by archivists in Tilburg, in the southern Netherlands.
"Maybe this diary will be a disappointment to you because it doesn't contain facts," Helga wrote in the diary to Kees. "But maybe you'll be glad that you find me in it: conflict, doubt, desperation, shyness, emptiness."
She tells of delousing, the kale soup served at the camp, and of children being deported to their deaths.
"We are homeless, countryless and have to adjust ourselves to that way of life. What we have seen in these last months is indescribable, and for someone who hasn't been there, unimaginable."
Helga's mother worked at the camp as a doctor at the camp's SS headquarters - as Helga's mother was German (her father was Dutch), she could. The SS told her that she could go free, but she chose her family and death. Now there's loyalty.
Helga hoped that her hard work would save her family from being deported, but alas: one day in early July, she was told that she and her family would be deported. Her last entry is this: "Packing, and this morning a child dying which upset me completely," she wrote. "Another transport and this time we will be on it." She and her family are reported to having died on July 16, 1943.
Latest articles