Iggy Pop - the Godfather of Punk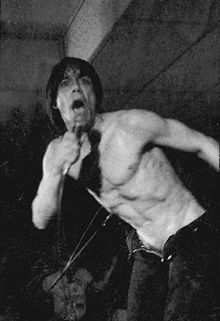 James Newell Osterberg, Jr. better known by his stage name Iggy Pop. Although he has had only limited commercial success, Iggy Pop is considered one of the most important innovators of punk and related styles. Some people refer him as 'The Godfather of Punk' or 'The Rock Iguana'.
Iggy was born on April 21, 1947 in Muskegon, Michigan. his music career began during his high school years when he joined various bands. One of these bands was the Iguanas. That is when he started to call himself 'Iggy'. After dropping out of the University of Michigan, he moved to Chicago to learn more about blues. Inspired by Chicago blues bands MC5 and The Sonics, Iggy formed the Psychedelic Stooges - soon to be shorted to The Stooges. Shortly after The Stooges' first two albums The Stooges and Fun House sold poorly, and the group disbanded because of Iggy Pop's growing heroin addiction.
With the help of David Bowie, Pop's career rejuvenated when they recorded an album together in England. James Williamson signed on as guitarist, the search began for a rhythm section. Neither Pop nor Bowie were like any players in England, so they decided to reunite The Stooges. However, it would not be a true reunion, in that Dave Alexander would not play on the album. He had become a full-on alcoholic, unable to play on the record; he died in 1975. The recording sessions produced the punk rock landmark Raw Power, in 1973. Bowie continued his support, but Iggy's drug problem persisted. The Stooges' last show ended in a fight between the band and a group of bikers. Drug abuse put his career on hold for a couple of years.
in 1977, after checking himself into a mental institution because he couldn't get ahold of his drug problem and eventually coming out, David Bowie took him along on the Station to Station tour. This was Iggy Pop's first exposure to large-scale professional touring and he was impressed. In 1982, Iggy Pop released what would be his final album for some time, Zombie Birdhouse. Commercially, the album was no improvement on his Arista works. However, the next year Iggy's fortunes changed. Bowie recorded a cover of the song China Girl. Bowie's version was a worldwide hit single and as co-writer of the song, Pop received substantial royalties. For the first time in his music career, Iggy Pop was financially secure for three years. In those years off from working, he overcame his heroin addiction, took acting classes and got married.
In 1985, Pop recorded some demos with Steve Jones (previously guitarist of the Sex Pistols). He played these demos to David Bowie, who was impressed and offered to produce an album for Pop - 1986's Blah Blah Blah. It featured the single Real Wild Child - a cover of Wild One (Real Wild Child), originally made popular by Australian rock'n'roll pioneer Johnny O'Keefe in 1959. The single was a Top 10 hit in the UK and was also successful around the world, especially in Australia, where for the last twenty years it has been used as the theme music for the ABC's late-night music video show Rage. It remains Pop's solitary brush with major commercial success. Blah Blah Blah was Pop's highest-charting album in the U.S., peaking at #75 on the Billboard Top 200 albums chart.
In 2003, Pop's album, Skull Ring - featured collaborations with Green Day, Peaches, Sum 41, and The Trolls. For the first time sine 1974, that album reunited the two surviving founding members of Stooges. Having enjoyed working with Ron and Scott Asheton on Skull Ring, Pop reformed the Stooges. They have been touring regularly since 2004. That same year, Pop opened Madonna's Reinvention World Tour in Dublin. In early 2006 - at the age of 59 - Iggy and the Stooges played in Australia and New Zealand for the Big Day Out. In August of that year, they performed at the Lowlands pop festival in the Netherlands, Hodokvas in Slovakia and in the Sziget festival in Budapest. Iggy and The Stooges played the Glastonbury Festival in June 2007, which led to Wellington Boot wearing crowd-surfers and a good-natured riot as Pop encouraged muddy festival goers to invade the stage.
Iggy Pop has been in/featured five television shows - Tales from the Crypt, The Adventures of Pete & Pete, and Star Trek: Deep Space Nine. With The Stooges, he was also featured in an episode of MTV's Bam's Unholy Union as the main band performing at Bam's wedding. Pop is also the voice of Lil Donald Rumsfield on the Comedy Central cartoon Lil' Bush, and confirmed that he has done voices for American Dad and Grand Theft Auto IV.
In his career of acting, Pop has been in sixteen movies. Most of them were small roles, but those roles would include Sid and Nancy, The Color of Money, Hardware, The Crow: City of Angels, The Rugrats Movie, Snow Day, Coffee and Cigarettes, Cry-Baby, Dead Man, Tank Girl and Atolladero.
Many bands have covered some of Iggy Pop's songs. Among those would be:
The Stooges song 1969 was covered by goth rock band The Sisters of Mercy, Mission of Burma, and by Joey Ramone on his solo album. It is also featured in the 1998 movie SLC Punk. No Fun has been covered by The Black Keys, Some Girls, The Orb and the Sex Pistols. Raw Power was covered by Daucus Karota and Guns N' Roses. The Passenger has been covered by Siouxsie & the Banshees, Bauhaus, INXS, Riot Grrl and Lunachicks. Rage Against the Machine has covered Down on the Street on their last album "Renegades". Many other bands have covered Pop's songs, too.
Iggy Pop earned a place in punk rock history. He popularized many of the stage routines that are now commonplace among musicians. He was among the first to stage dive and "crowd walk". He also smear raw meat - and on one occasion peanut butter - over his chest and/or cut himself with broken bottles. Many subsequent performers have imitated Pop's antics. Although Pop has never recorded a Top 10 album or best-selling single, his impact on rock music is widely acknowledged.
Latest articles