Tim Curry: Sweet Transvestite, Killer Clown and Everything In Between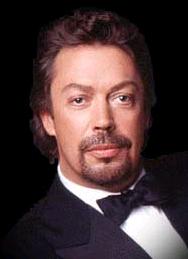 In his over thirty years of acting, Tim Curry has managed to not only star in a film that has become a cult legend, but he's also instilled the fear of clowns into many young children, myself included. However, even though Curry is best known for his roles as Dr. Frank N. Furter in The Rocky Horror Picture Show and Pennywise the Dancing Clown in the television adaptation of Stephen King's It, he has participated in many different aspects of entertainment; whether it be acting on film or television, doing voiceovers for cartoons or video games, or even releasing albums, he's done it all.
Timothy James Curry was born April 19, 1946 in Grappenhall, a village in Chesire, England, the United Kingdom. He grew up in the town of Warrington until the age of twelve, when he moved to London after the death of his father. After high school, during which he became a talented singer, he graduated from Birmingham University with Combined Honours in English and Drama. After his graduation, he earned roles in various plays, including the original London production of the musical Hair. However, it was in 1973 that the role that would change his life and make him recognizable to millions came to fruition; that of Dr. Frank N. Furter in the original stage production of The Rocky Horror Show, the predecessor to the film The Rocky Horror Picture Show that came out two years later.
The film became a cult hit, and Dr. Frank N. Furter is still arguably one of his greatest, if not most famous roles. After the film was released, he returned to the theatre, performing in productions of Amadeus and The Pirates of Penzance, amongst others. His film credits during this time included movies such as Clue and Annie.
In 1990, Curry played the role that scared children and adults alike; that of Pennywise the Dancing Clown in the television film adaptation of the novel It by horror writer Stephen King. His performance as the child eating shape shifter was acclaimed by many for being both terrifying and humorous. Curry stayed in character on the set, leading many of the actors to completely avoid him. The role is also one of his best known.
His acting roles on both television and in film are far too numerous to mention even half of them. On his IMDB page, he has 194 acting credits to his name between 1968 and 2009. However, in later years, he has showed up in movies such as Muppets Treasure Island, Charlie's Angels, Scary Movie 2 and Kinsey, as well as numerous television and voice over roles.
On top of his success in acting, Curry has also released multiple CD's, the last of which came out in 1989.
Although Curry may not be the most popular of actors nowadays, he will be remembered for a very long time as the man who created everyone's favourite 'sweet transvestite' and as the man who gave some many children a fear of clowns for the rest of their lives. And really, that in itself is impressive enough.
Sources
en.wikipedia.org
imdb.com
Latest articles