Thirty Years Later, the Name is Still Infamous.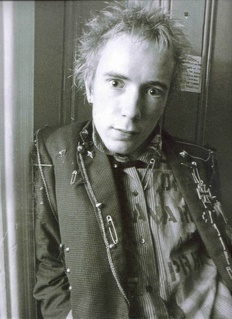 "I'm not a revolutionary, a socialist or any of that. That's not what I'm about at all. An absolute sense of individuality is my politics."
He is known for his over-articulated, angry vocals, use of profanity and deliberately inflammatory language. John Lydon - more commonly known as Johnny Rotten - is one of the most notorious and influential figures in music history.
John was born on January 31st, 1956. His family background was very, very poor, and it followed his parents once they emigrated from Ireland to England. For the first eleven years of his life, John lived in a two-room tenement - a working class slum - on Holloway Road before moving to Finsbury Park. Being the oldest - since his father being gone for days at work and his mother frequently ill - his main job was to watch over his three brothers, who were all relatively close in age. At the age of seven, he contracted spinal meningitis, leaving him close to death. For the next six months, he slipped in and out of a coma. The disease left him with a permanent curve in his spine. Also, it damaged his eyesight which made the classic "Lydon stare". He has to look at things hard to get it into focus.
Believe it or not, John wasn't always out-spoken. Up until teen years, he kept to himself. School made him nervous, and he was often picked on for being so quiet. Most of his time was spent listening to music - Alice Cooper, Iggy Pop, Captain Beefheart. But then he began to fight back. Teachers became furious when he'd manipulate their anger with clever come backs. In 1971, at the age of fifteen, he got expelled from Catholic school for having long hair and not wearing the uniform. From then on there he went to state schools where he met good friends John Beverly - later to be dubbed Sid Vicious by John after his pet hamster - and John Wardle. By this time, John was already slashing up his clothes and putting them back together with safety pins, and experimenting with his hair - it went from long and red to short and bright green in his mid-teen years.
Bernie Rhodes is said to be the one to spot John one day in 1975, walking down King's Road wearing an "I Hate Pink Floyd" t-shirt and green spikey hair. Rhodes asked John to come back later to meet Malcolm McLaren, Steve Jones and Paul Cook. When Malcolm asked him to be in a band, John thought it was all a joke and become very cynical, but Rhodes broke in and said they should go back to McLaren's shop to sing a few songs. The song of choice was Alice Cooper's "Eighteen". Malcolm thought he was perfect, and the rest is history. Soon after, along with Glen Matlock, the Sex Pistols began practicing. The name 'Rotten' was given to John by Steven Jones. For a period of time, he neglected oral hygiene, so his teeth began to turn green.
All of Rotten's lyrics made it into the UK charts - some even into the US charts. Anarchy in the UK was released on 26 November, 1976. It reached to #38 on UK charts. On 27 May, 1977, their most controversial song was release - God Save The Queen. It earned a place as #2 on UK charts, but many people believe it was really #1. Violent attacks increased on punks around this time. Rotten himself was stabbed by a gang of Royalists. Tendons in his knee and left hand were damaged. Police did nothing about it, because they said "he deserved it". To this day he can't make a fist properly. Pretty Vacant, released on 2 July, 1977 made it to #6 in the UK, and #93 in the US. And last, but not least, three months later, Holdidays in the Sun made it to #8 in the UK. The album it self (NMTB) made it #1 in the UK, and #106 in the US. With all of those singles some sort of questioning arose. John had a clever way with words to do so.
During the Pistols years is when Rotten met Nora Forster, his wife. It wasn't love at first site, though - more like dislike and annoyance. Nora came to know who John was through her daughter, Ariana (aka Ari Up of The Slits), who was a huge fan of Rotten. Upon moving to England, Nora lived with a man who made demos of the Sex Pistols, so they were over a lot. One night, John asked for a ride up to the Speakeasy since he had no money. She gave him a ride there, but refused to give him one back because she was embarrassed around him. Nora made Rotten walk hours until he got back home. The next time they ran into each other at a gig, he walked by her table and said, "Drop dead!" They didn't speak again until a while later when Rotten had been drinking and was more open. The two talked, and realized they had more in common then they thought. The fifteen year difference in age didn't seem to matter. Six months later they were together for the next thirty years.
"Ever get the feeling you've been cheated?" Rotten's famous last words as a Pistol before throwing down his microphone and walking off stage on 14 January, 1978 at the Winterland in San Francisco. The U.S. tour is what did it in for John. Getting the cold shoulder from Malcolm and having Sid completely out of his mind drove Rotten bitter and confused. Three days later, Vicious left for New York and the other band members including Malcolm went to Rio de Janeiro, leaving Rotten in California. He had no hotel room, no plane ticket home, no money and a message to Warner Bros. saying that if anyone called claiming to be Johnny Rotten they were lying. Eventually he got a hold of Richard Branson of Virgin Records who agreed to pay for his flight back to London.
John barely made any money off the Sex Pistols for the two years they were together. In 1986, after an eight year legal battle with Glitterbest Limited, the settlement was that all revenues belonged to the band and was to be split evenly four ways.
Even though the Pistols were finished, that didn't mean the foul-mouthed singer was. People had begun to think to be considered a rebel – a punk – has to wear leather jackets and safety pins through their faces. That was exactly what John didn't want to happen – for people to believe "you have to dress this way, or else you don't fit in with the punks." Rotten and John Wardle formed Public Image Ltd in late '78, and kept doing the unexpected. PiL were not like the Pistols musically or morally. Being in this band wasn't any easier, either! People were still on his ass for the chaos caused in the wake of the punk movement. The change in music genre annoyed many Pistols fans, but equally opened up a variety of kids to more eclectic tastes.
On December 20th, 1978 – in Brussels, Belgium – PiL preformed their first gig, but it didn't begin on time. The band was only in their early twenties, so their teenage childlike behavior still shown through brightly. They were playing around with the sound table before the show which resulting in breaking half the PA system; leaving the concert to start and hour and a half later than planned. The 25 minutes they did play, however, John spent most of the time insulting everyone. A second gig was played that night. Several times Rotten left the stage. He ended up leaving the stage before the gig was over, handing the mic off to someone in the crowd. After the gig, the Belgian audience and promoters were furious that the band didn't care a lot. Most of the people were waiting for a Sex Pistols show. They took a hit of reality right in the mouth.
Their debut UK gig also did things no one has ever heard of before. They played on Christmas Day. As soon as Rotten strode on stage in his blue plaid suit, fights seemed to break out on cue. One side of the theater were Arsenal Skins, the other side West Ham, and in the middle the punks. Soccer chants were heard; the skins kicked the fuck out of the punks, then each other. Rotten, being his normal self, got involved verbally. The band had to stop several times because of the mayhem. Even though the gig may have seemed like a failure, PiL had won over much of the sceptical audience– making the show a success.
Public Image Ltd.'s first single Public Image – written when Rotten was still in the Sex Pistols - actually got a bad review from NME upon its release.
Public Image have a lovely little sound, a long way from orthodox boring heavy rock with a punchy, light Sound above that great bass and stuff. But oh dear! What crummy lyrics you've come up with, John Rotten, all whining about how your fans didn't do you right and how you want to be let alone etcetera. Rotten performs autopsy on Dead Pistol, full of lines about making his exit and not being the same as when he began...
Despite its review, Public Image made it to the #9 spot shortly after the release. It stayed there for eight straight weeks. So much for NME's review. Seemed like the fans connected to the song more than expected. It's self-explanatory. It was a bite back on the Sex Pistols years, telling how everything was going to be different. Over the next 14 years, John continued with Public Image Ltd. to make eight albums. All of which made it into the UK charts, ranging from #56 to #10. Each album differed from the last. In one it would be mostly reggae, the next would be alternative dance, the next rock. No one could ever predict what PiL would come up with. All 14 singles produced also made it into the Top 100 charts. Their biggest hit would be This Is Not A Love Song, making it to #5.
It was all very tongue-in-cheek. At the time, people were saying that that I'd joined big business and become a bourgeois shit. So I thought the best way of tackling this would be to pump out a song saying that's exactly what I am, tongue firmly in cheek. And that kind of stopped that nonsense, so it worked.
Rotten has, and will do just about anything. Except for one thing. Out of all the songs he has ever made, there is only one he refuses to play live. That is Death Disco. The lyrics were written for his dying mother, who he was very close to. In 1984, he teamed up with hip-hop pioneer Afrika Bambaataa; and in '93, he teamed up with Leftfield, creating one of the most popular and influential dance anthems of the 1990s. In 1992, Public Image Ltd. went on indefinite hiatus. In '94, John wrote his autobiography Rotten: No Irish, No Blacks, No Dogs to put to rest all rumors about the Sex Pistols and what went on during those years. The last album to date was release in 1997, which was a solo album.
Since 1997, Rotten has done many television appearances that didn't involve his music. His appearances ranged from Judge Judy to VH-1 shows to his own to this summer's Bodog Battle of the Bands. As of 18 September, 2007, Rotten has gotten back together with the surviving members of the Sex Pistols to re-release all material - re-record some - and tour.
This is a man who helped make people stand up and think for themselves. In doing so, he helped change the world. What is needed to be remembered in this world of media hype and snide, is that John Lydon is just a human being. He has made his mistakes, and triumphs. You don't have to love him nor hate him, but have to respect him. He is proof that if you set your mind to it and try with all your heart, you can achieve anything.
"Maybe I am a prehistoric monster by being an individual. It's highly likely. All I offer to others is their own individuality. Grab it!"
Latest articles