The Wild and Wondrous: Wendy Williams!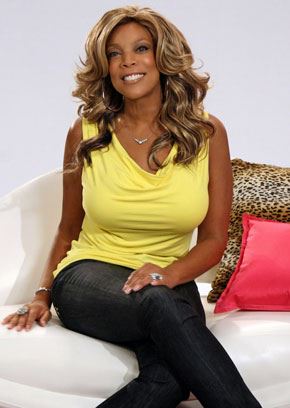 The self-proclaimed, Queen of All Media, Wendy Williams is a force to be reckoned with. She's a prosperous radio personality, New York Times best selling author and is currently the host of her own talk-show, The Wendy Williams Show.
Wendy Williams, born Wendy Joan Williamson, was born on July 18, 1964 to parents, Thomas and Shirley Williamson. She is the mid-kid of three children, born and raised in Ocean Township, New Jersey. In 1986, Wendy Williams graduated from Northeastern University with a bachelor degree in communications and was also a DJ for her college radio station.
In 1989, Wendy Williams joined 98.7 Kiss FM in New York City as a fill-in DJ but soon landed her own shift at 9-5 p.m. Wendy won the Billboard Award for Best On-Air Radio Personality in 1993. In 1998, Wendy Williams was fired from her New York station after a confrontation with co-worker, Angie Martinez. She left New York, and was hired at a station in Philadelphia, but shortly returned to New York and was hired full-time at WBLS in 2001. An impressive comeback for the Queen of All Media.
She continued with WBLS for eight years and announced that she elected to leave the radio show in 2009. Only months later, Wendy was inducted into the National Radio Hall of Fame.
In July of 2008, The Wendy Williams Show was debuted and started doing test runs in New York, Detroit, Dallas, and Los Angeles. A year later in July 2009, FOX signed a deal with the syndication company to start broadcasting at the end of the test runs of the show. BET also got cable rights to the show and began airing it simultaneously with FOX. Some of the celebrity guests on the show include, Whoopi Goldberg, Aretha Franklin, Dolly Parton, and Natalie Cole.
You can't be spunky without causing some controversy. That was no exception for Wendy Williams. Jay-Z, Will Smith, Mariah Carey and Lil' Wayne are only a few musicians that have heavily criticized Wendy. In 2008, Nicole Spence, a talent booker for Wendy Williams, sued her claiming Kevin Hunter, Wendy's husband, made sexual demands at work and created a hostile environment: "Mr. Hunter repeatedly sexually propositioned me at work in the most crude and vulgar ways," Nicole claimed. Both Wendy and her husband deny the accusations.
Wendy Williams has her own special personality. On-air she is a stimulating woman. Her groovy, exciting style, made her even more appealing to the audience. She takes criticism head on and is straight to the point. She doesn't sugar-coat things, she tells them exactly as they are. This sort of bluntness to her, made her a fan favorite among youth and adults and she looks as though she truly loves what she is doing. Keep up the good work, Wendy!
Latest articles