Kurt Cobain: Suicide or Murder?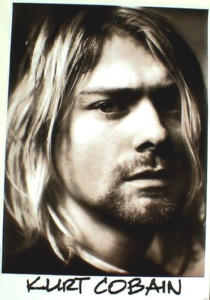 Kurt Cobain. Guitarist and singer of the 90's band, Nirvana. Husband of Courtney Love. Allegedly depressed.
These are all things that come to mind when his name is spoken. After his death, it was concluded that he had committed suicide.
This was suspected because he was said to be acting strange when last seen on a plane by Duff McKagan (bassist of Guns and Roses), and Kurt had been M.I.A. for days. His body was found in the room above his garage in Lake Washington by Veca Electric employee, Gary Smith.
However, some people were suspicious that Kurt never killed himself, and that Courtney Love paid someone to kill him.
Why would they think this?
Courtney has a record of paying people to do her dirty work. When she broke up with a boyfriend, she would often pay someone $150 to go beat them up. Kurt was planning to divorce Courtney because she was cheating on him. Is it possible that she ordered someone to murder him?
A man named Nick Broomfield investigated this matter. He interviewed a man who went by El Duce, who claimed Courtney had offered him $20,000 to kill Kurt.
"Did she tell you how she wanted you to kill him?" asks a man behind the camera.
"Yep. She told me to put a bullet through his head," replies El Duce.
This was El Duce's last interview, as he passed out on some railroad tracks and was run over by a train a few days later.
Other evidence that Kurt was murdered is that no fingerprints were found on the gun. This indicates that they had been wiped off. Kurt was not wearing gloves when his body was found, so fingerprints should have been found on the handle and the trigger.
Finally, Courtney asked to cancel Kurt's credit card before his death. It is not known why, because her reason for doing this was to find Kurt and bring him to rehab. It would have been easier to track his purchases to locate him. After Kurt's death, an unknown person tried to use his credit card.
On the other hand, there is also evidence that Kurt actually did commit suicide. The main reason being that there was a suicide note found under a flower pot, addressed to his childhood imaginary friend, Boddah. It is assumed that he wrote the note, but there is no proof that he actually did. A handwriting analysis was completed, but no results were confirmed- the reason being that the analysts received a photocopy of the note rather than the original. Kurt's fingerprints were not found on the suicide note or the pen that was found sticking through it.
All in all, there is not enough evidence to prove whether Kurt was murdered or not. Though some facts do point to that theory, others point to the theory of suicide. This case will remain a mystery until further researched.
Latest articles