A Runaway With A Blackheart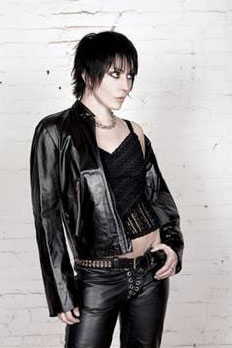 Born Joan Marie Larkin on September 22, 1958 in Ardmore, Pennsylvania, she grew up in suburban Philadelphia, later moving briefly to Rockville, Maryland and Long Beach, New York, before ultimately relocating to Los Angeles, California.
In 1975, at the age of 17 and along with Kari Krome (later replaced by Micki Steele and later Jackie Fox), Sandy West, Lita Ford and Cherie Currie The Runaways was born.
"Part of what we wanted to do was to inspire other girls to be what they wanted to be", Jett says. "If it's a musician, great. But if it's a nuclear physicist, that's great, too. Girls have very few life choices that people support. When they try to do other things, people look sideways at them. It's not just music where women have a tough time".
While Currie initially fronted the band, Jett also sang lead vocal, played rhythm guitar and wrote or co-wrote much of the band's material. The band recorded five LPs - one becoming one of the biggest-selling imports in U.S. and U.K. history. The band began headlining clubs like CBGBs and toured around the world and some of their opening acts included Cheap Trick, Van Halen, Tom Petty and the Heartbreakers, Television, Talking Heads and later with the Ramones. They found huge success abroad, especially in Japan.
While The Runaways were popular in Europe, Japan, Australia, Canada and even South America, they could not gain the same success in the States. It seemed that the United States, and the music press especially, was not ready to take seriously the music of female teenagers. After Currie and Fox left the band (to be replaced by bassist Vicki Blue and later, Laurie McAllister), the band released two more albums: Waitin' for the Night and And Now... The Runaways. Altogether they produced five albums from 1975 until they disbanded in 1979.
In the spring of 1979, Jett went to England pursuing a solo career. While there, she cut three songs with ex-Sex Pistols Paul Cook and Steve Jones. One of which was an early version of a cover song called "I Love Rock 'N' Roll," originally written and performed by The Arrows. Joan had seen The Arrows in concert, and loved the song. Later that year, she moved to Long Beach, New York, and ultimately, Los Angeles.
In 1984, Jett met songwriter and producer Kenny Laguna who came in to help Jett with writing some tracks for a film about the Runaways she was working on. They became instant friends and decided to work together. Jett's self-titled solo debut was released in Europe. In the United States, the album was rejected by 28 major labels. They realized the only way to get it released was to do it themselves. Blackheart Records label was then born from Laguna's daughter's college savings. Jett inadvertently became the first female performer to start her own record label.
With Laguna's assistance, she formed the Blackhearts. Joan placed an ad in the L.A. Weekly "looking for three good men". John Doe of X sat in on bass for the auditions held at S.I.R. studios in Los Angeles. He mentioned a local bass player, Gary Ryan, that had recently been crashing on his couch. Ryan was part of the L.A. punk scene and had played bass with local artists Top Jimmy and Rik L. Rik. He had been a huge fan of the Runaways and Jett for years. Joan recognized him at the audition and he was in. Gary recommended guitarist Eric Ambel, who was also at the time part of the Rik L. Rik band. The final addition to the original Blackhearts was drummer Danny "Furious" O'Brien, formerly of the infamous San Francisco band The Avengers. This line-up played several gigs at the Golden Bear and Whiskey A Go Go in Hollywood before embarking on their first European tour; which consisted of an extensive tour of the Netherlands and a few key shows in England including the Marquee in London.
Upon returning to the states, Jett, Ryan, and Ambel moved to Long Beach, N.Y. O'Brien stayed behind in England to pursue other interests. Auditions were set up and Lee Crystal, formerly of The Boyfriends, became the new drummer. Joan Jett and the Blackhearts then toured throughout the States and built quite a following. Jett and Laguna soon used their personal savings to press up copies of the Joan Jett album and set up their own system of independent distribution, sometimes selling the albums out of the trunk of Laguna's Cadillac at the end of each concert. Laguna was unable to keep up with demand for her album. Eventually, old friend and founder of Casablanca Records, Neil Bogart, made a joint venture with Laguna and signed Jett to his new label, Boardwalk Records and re-released the "Joan Jett" album as "Bad Reputation". After a year of touring and recording, The Blackhearts recorded a new album entitled "I Love Rock and Roll" for the label. During the recording process, Ambel was replaced by local guitarist Ricky Byrd.
With Byrd on guitar, Joan Jett and the Blackhearts recorded their hit album. The new single was a re-recording of the title track, "I Love Rock 'N' Roll", which in the first half of 1982 was number one on the Billboard charts for seven weeks in a row. It is now Billboard's #28 song of all time.
Jett was the second American act of any kind to perform behind the Iron Curtain - a symbolic, ideologic, and physical boundary dividing Europe into two separate areas from the end of World War II until the end of the Cold War. The first one being Blood, Sweat & Tears in Romania in 1969. She was among the first English-speaking rock acts to appear in Panama and the Dominican Republic.
Joan Jett and the Blackhearts became the first rock band to perform a series of shows at the Lunt-Fontanne Theatre on Broadway, breaking the record at the time for the fastest ticket sell-out ever.
She made her acting debut in 1987, co-starring with Gena Rowlands and Michael J. Fox in the Paul Schrader film, Light of Day. She has also appeared in some independent films, including The Sweet Life and Boogie Boy.
During the 1990s, she appeared on the sitcom Ellen, performing the title song. She also appeared on the television show Highlander. Her song "Bad Reputation" was used as the theme song for the cult TV show Freaks and Geeks. A version of "Bad Reputation" also appeared on the soundtracks of the films Shrek and 10 Things I Hate About You. The father and son motorcycle building reality show "American Chopper" is currently using Bad Reputation as the intro music for the show.
In 2000, Jett appeared in the Broadway production of The Rocky Horror Show in the role of Columbia. From 2000 to 2003, to support work by first time filmmakers and the indie film business, Jett hosted a showcase of new film and video shorts, Independent Eye, for Maryland Public Television.
Jett returned to music by producing for the band Circus Lupus in 1992 and again, in 1994, for Bikini Kill. This recording was the New Radio EP for which she also played and sang back-up vocals. It was during the 1990s that the Riot Grrrl movement arose, of which Bikini Kill was a representative band, and many of these women credited Jett as a role model and inspiration. Another Riot Grrrl band, Bratmobile, covered the song "Cherry Bomb" as a tribute to her.
Upon the release of Sinner in 2006, Jett's sexual orientation has been the subject of much speculation. The album features a cover of The Replacements song Androgynous and a version of the song A.C.D.C. by Sweet, which is about bisexuality. However, Jett won't publicly discuss her sexuality. She said, "But I do it in my music, and I always have. If you don't know who I am from listening to my music, then you're not going to figure it out from me talking to you, either".
In October, 2006, Jett was inducted into the Long Island Music Hall of Fame. In 2003, Jett was named in the Rolling Stone greatest 100 guitarists of all time at number 87. She was one of only two women in this list. The other was Joni Mitchell. Jett is listed as one of Blender's "Hottest Women of Rock" 21 years after she started The Runaways.
On September 22, 2007, her 49th birthday, Jett was on tour with Aerosmith on their 2007 World Tour. Steven Tyler, lead singer, came out during Joan's set with a cake and sang Happy Birthday to her.
Fiercely loyal and ferociously independent, Jett seems capable of meeting any challenge. Rock 'n' roll pours from every pore... the throbbing, driving, grab-you-by-the-throat gutsy kind of rock. It's at the core of her very being.
Her music ages so well, yet she doesn't seem to age at all.
"I went to a school reunion in Maryland not long ago and some people reminded me I had said I was going to go to California to become a rock 'n' roll star! I hadn't remembered that I had focused on it that early! To say that as a kid and actually do it is pretty cool. It just goes to show you that if you can believe in yourself, if you're lucky and have the right timing, you have a shot. I'm an example of what can be, if you don't give up!.
Latest articles