Father Falsely Accused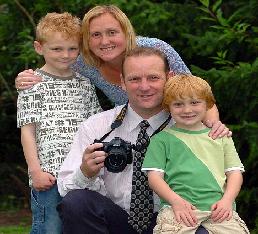 Gary Crutchley was taking photographs of his two sons playing on an inflatable slide when the woman operating the slide suspiciously asked what he was doing, while other people waiting in line demanded he stop, including one person who suggested Crutchley would be putting the photographs on the internet, calling him a pervert.
Crutchley refers to one of the accusing women: "...I repeated that the only people being photographed were my own children. She said I could be taking pictures of just any child to put on the internet and called me a pervert. We immediately left the show".
Crutchley, understandably upset, brought two policemen to confirm the innocence of his actions, who went on to explain to Crutchley that it was, indeed, unnecassary accusation, but that was society today.
Crutchley stated: "What is the world coming to when anybody seen with a camera is assumed to be doing things that they should not"?
Understandably, every parent wants to protect their child from the increasingly threatening possibility of sexual harrassment, but is the paranoia growing so strong that we're getting to a point of accusing fathers photographing their children? Photographing in public certainly isn't anything illegal, but with our growing distrust of other people, will drastic measures soon be taken?
Latest articles