Woman Killed By Train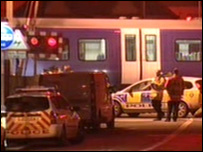 A woman in her late 20s was killed by a train on a level crossing in Essex after her boot became lodged in the wooden slats as she was crossing the line.
A rescue attempt was made by two men as she stood trapped on the line in Hythe Station Road, Colchester, while the barriers were down. The men were unable to release her in time and she was hit by the oncoming train.
The accident, which took place yesterday evening, is not being treated as suspicious, a BTP (British Transport Police) spokesman said.
The crash involved a service from London's Liverpool Street station to Clacton, travelling between 40mph and 50mph.
One of the men is said to have suffered minor injuries in the accident.
"This was a tragic and harrowing incident for everyone concerned.
Level crossings can be very dangerous places and it is vital that members of the public use them in the correct way." said Dep Insp Terry Pearce of the BTP.
Back in December 2005, two girls died on a level crossing in Essex after ignoring crossing warnings and running onto the tracks. Safety reviews on locations where pedestrians cross the tracks were carried out following the death of the two girls, Charlotte Thompson, 13, and Olivia Bazlinton, 14.
Latest articles