Harry Potter No More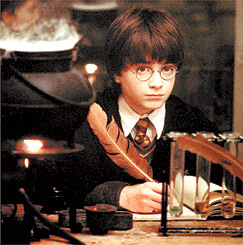 The 18 year old has already been named Brittan's richest teen and will be US$50 million richer after the next two movies, though he does hope that his profile as the boy wizard subsides a little to allow him to play other roles convincingly.
Radcliffe was recently in Sydney to promote his first non-Harry Potter film (he has been in a Broadway production) December Boys, he says that just by making the Australian movie he has seen people perspective of him change.
"This is the first step in a very long process of being seen as something else, it is a very long process and I hope that at least 80 per cent will see me as non-Harry Potter in this film, that's my aim, and most are,'' he told film writer Erin McWhirter.
"Some people will always see me as Harry Potter and I know that every chat show I do from now until whenever I will always be introduced as the boy from Harry Potter.''
Hundreds of Harry Potter fans screamed for Daniel at the Sydney premiere of December Boys on September 10th at Moore Park. It is hard to imagine the young star ever losing his boy-wizard image.
Radcliffe has signed on for the last 2 films which will be filmed between now and 2010 and he admits having the next 3 years of his life 'booked' is restricting.
"Sometimes you do feel a bit like 'Oh god I wish I just didn't know what is going to happen around the corner','' he said.
"But that's a dumb thing for an actor to say because there are 99 per cent of actors who would kill to have guaranteed work for three years.''
After the completion of his harry Potter duties, Radcliffe plans to take on more challenging roles.
Latest articles