Sondre Lerche: Scandinavian answer to Bright Eyes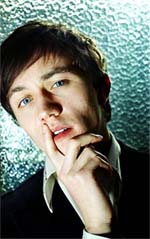 The mission, as the title of the column says, is a weekly pick of best MySpace bands. Well, perhaps not the best, because there are millions of profiles somewhere hiding excellent music, but definitely something wroth listening to. I will try to be objective as possible and have various bands listed every Sunday (I didn't have a lot of time this week so we are a bit late). Hopefully you will find something for yourself and enjoy good music!
So this weeks pick is Sondre Lerche. Maybe a bit unfamiliar this Norwegian artist deserves the praise of critics and should gain such from more people around the world. His mix of pop, jazz and indie is something irresistible.
He was born in Bergen, Norway and started his career in a band called The Faces Down. Their first album called simply Faces Down was a mixture of indie pop, rock and folk. It was released in 2001 and later on followed by Two Days Monologue which had more vibrant guitar sounds. The 3d album Duper Sessions adopted a new jazzy sound to the existing material which admirably mastered on Phantom Punch.
Packed with clever melodies and punchy guitar licks that rock like a twentysomething Elvis Costello, Phantom Punch is Sondre Lerche's most vital record yet. It was produced by Tony Hoffer (Supergrass, The Kooks, Phoenix, Beck, Belle & Sebastian, The Thrills, Turin Brakes).
"Spunky winners like the title track suggest that Lerche has absorbed the early work of his tourmate Elvis Costello…In the end, another reminder of a budding talent." – Rolling Stone
The reviews say it all. I recommend going to his MySpace and listening to the song Say It All. Discover the brilliance by yourself.
Latest articles