Anna Nicole's Corpse Photo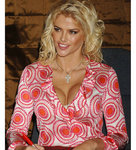 On October 1st, "Hollyscoop" brought out breaking news: a picture of Anna Nicole Smith's corpse. The photo was Ms. Smith in bed with her eyes closed, from the cleavage up, with vomit around her mouth and on her chest. Generally, the photo was quite disturbing.
Anna Nicole Smith was famous for many reasons. She was a former Playmate of the Year, reality TV show star, and sponsored the weight-loss pill Trimspa. She was also an activist for the animal rights group PETA. Smith had a 20-year-old son, Daniel, who died on September 10th, 2006 just three days after his baby sister Dannielynn was born. Smith died only five months after him. Mother and son are interred in the Bahamas.
Howard K. Stern, Smith's old lawyer, had representatives send out statements to various websites showing the picture. They asked that it be taken down from their websites, and that it should not be punished in any official means of media or else a lawsuit would follow. Most websites with the image have taken it down, but it still floats among the Internet.
According to rumor, the picture was stolen from Anna Nicole's camera. The people who currently own her estate are trying their hardest to get the camera back.
Latest articles