New Video of Green Day Back In Studio Released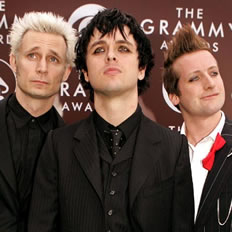 It has been months since some real Green Day action was seen, with garage sideband Foxboro Hot Tubs' debut album Stop Drop and Roll and subsequent live shows around the US - but a new 45 second video posted on Youtube has fans stirring.
The video, posted on October 9th, shows lead singer Billie Joe Armstrong in the studio, guitar on lap while strumming what is assumed to be new songs from the upcoming album. While there are no vocals and is of such short length, the video has caused much excitement among fans who have been patiently awaiting a new album. The previous September saw the four year anniversary of the release of 2004's American Idiot, making the gap between it and the untitled, unknown upcoming album the largest between any two albums in their eighteen-year career.
It had also been previously rumoured that Green Day were enlisting drummer for alternative rock band Garbage Butch Vig as producer for the new album. While the only real source for this information had been from Garbage lead singer Shirley Manson in an interview with Carson Daly, the video appeared to provide further evidence confirming such a fact. Vig can clearly be seen in the video footage, but fans are still awaiting official confirmation from the band.
It is still unclear as to what role Rob Cavallo will undertake for Green Day in the near future, having produced the majority of the band's album since their 1993 signing to major label Reprise.
The video comes at a time shortly after Plain White Tees lead singer Tom Higgenson mentioned Green Day's apparent interest in a Malibu recording studio which he and his own band had been using.
Warner Music UK had also recently advertised a new mailing list, encouraging fans to sign up to receive updates about the new album which they confirmed was to be released in 2009.
While although most of this information contradicts the comment Billie Joe made in late 2006 in an interview for Kerrang!, where he said it would be a "fair estimate" that the new album could be expected in 2008 (it is quite possible that this date was taken by the Foxboro Hot Tubs release), fans are excited at the advances nonetheless. The new studio video has already racked up over 7000 views.
Here's hoping for new updates soon.
Latest articles