"Nothing Personal" Hits Billboard Chart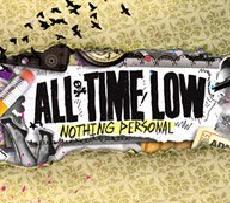 Baltimore quartet All Time Low's latest studio full-length, Nothing Personal (released July 7) has shot straight into America's Billboard Album Charts at Number 4.
Compared to earlier releases So Wrong, It's Right, which peaked at number 62 in the Billboard 200, and Put Up Or Shut Up not even listed as charting, surely this is a step int the right direction.
Lead singer and guitarist Alex Gaskarth shared this information with followers via his Twitter account earlier today; "First time in the billboard top 10. Number 4. So crazy. Thanks for being the best fans out there."
Drummer and backing vocalist Rian Dawson also shared his delight; "Holy wow we charted at #4 on the Billboard Top 200. That's insane. Thank you all so so much."
However, in the (UK) Apple iTunes General Album charts, the album resides at number 92, nestled between The Stone Roses and The Arctic Monkeys.
Aided along by catchy singles Damned If I Do Ya (Damned If I Don't) and Weightless, the album's even mix of electro-twinged tracks and slow ballads is bound to appeal to more than just their dedicated fans; more to a wider scale of audience.
With lead single Weightless peaking at number 4 in the singles chart, All Time Low look set for big, big things in the coming months.
Latest articles