Matthew Fazzi Of Taking Back Sunday Gets Engaged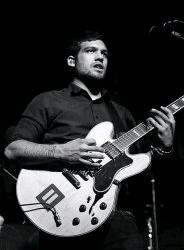 Last night, Eddie Reyes, lead guitarist and only original member of Taking Back Sunday started rumours amongst Taking Back Sunday fans when he Tweeted; "Good times on catamaran tonight with friends and family.. Congrats Fazzi and Meg, you guys rule.. Best couple ever.." Fans jumped to the conclusion that Matthew Fazzi (more commonly known as Fazzi due to the fact he's the second Matthew in the band), the twenty-four year old guitarist and back up vocalist from the same band, Taking Back Sunday, had finally after four years of being together, proposed to his partner, Meghan Criswell. The band are in Hawaii where Fazzi tells fans a lot of his family life, meaning that this was the right time and place for him to pop the question to her.
Matthew Fazzi joined Taking Back Sunday May of last year as the replacement for Fred Mascherino (now of The Color Fred) who left due to growing apart from the band musically. The band released the first album with Fazzi, New Again, on Warner Brothers at the start of June this year.
Suspicions were confirmed when Meghan tweeted; "Matt and I are getting married! I finally get to make an honest woman out of him." The announcement of the proposal has left Taking Back Sunday fans celebrating the fact that Fazzi is joining three of his fellow band mates in becoming a married man leaving Matt Rubano, bassist and backing vocalist, the only member who is not wed. But sorry ladies, Matt has been in a relationship with with girlfriend Elle Burdi for the past two years; how soon will it take them to follow Fazzi and Criswell?
Latest articles