20th Anniversary of Nirvana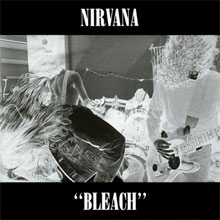 As hard as it may be for some to believe, it had been twenty years since Nirvana's first album "Bleach" was released in 1989 which was recorded on a budget of a mere $600 (which the band had to pay for themselves).
The debut album of a now legendary band was originally intended to be called "Too Many Humans" but front man Kurt Cobain decided to change the title to "Bleach" after he saw an advertisement advising heroin users to bleach their needles. The reason for this name change now seems pretty haunting considering the fate of the grunge singer and guitarist.
Though the album was not a major commercial success, the album did prove popular with college students in the Seattle and Washington area with its hardcore guitar riffs and punk, catchy hooks. Also, after the worldwide smash "Nevermind" was released in 1991, the debut album of Nirvana's was now desperately sought after by the international legions of fans who had now become obsessed by the previously unheard of Nirvana. However, as only 6000 copies of the "Bleach" album had initially been released, the album was rare.
Several years after Nirvana's debut album, Cobain expressed his distaste with the album in this infamous quote:
"I didn't give a flying **** what the lyrics were about. It was like I'm pissed off. Don't know what about. Let's just scream negative lyrics, and as long as they're not sexist and don't get too embarrassing it'll be okay. I don't hold any of those lyrics dear to me."
However, at the time, Cobain must have held the album dear to him due to the fact that he invested what was such a large sum of money to him at the time, considering him and his band mates had literally no money and hardly any possessions to their names.
Although "Bleach" did not have the phenomenal commercial success of "Nevermind" and "In Utero", the album certainly paved the way for Nirvana into the mainstream and it is certain that, without it, the legend of Nirvana would not be what it was, and still is today.
Latest articles