J.M. Barrie's Peter Pan 360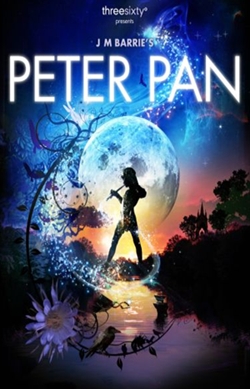 Peter Pan is a story that we are all familiar with. Most people only know the Disney version of this story or they know of the book. JM Barrie originally wrote this as a play, in attempts to get his mother's attention. When originally written, JM Barrie titled it "Boys Who Hate Their Mothers" because of the relationship he had with his mother. Later on they decided to change it to its famous title of Peter Pan.
The Peter Pan we all came to growing up, made by Walt Disney (who saw the play in 1906) was made a much less darker version then the original story. In the play there is no singing like in the movie besides the pirates singing "Their Aching Nones". The play also portrays Tinker Bell in the way Barrie wrote her to be: "Fairies are so small, that they can only feel one emotion at a time."
Peter Pan Three-Sixty was three years in the making. The directors and producers wanted this play to be held in Kensington Gardens and since it is a Royal Garden, no one has ever been able to put on a production of Peter Pan until this play. This play is an amazing fusion of theatre and new age film. The stage itself is circular raised about twelve feet off the ground and surrounded by the seating. While the whole play is taken place inside of a tent, C.G.I images are projected onto the tent telling the story along with the actors. One thing you will notice about the set, it feels as if you are in the children's imagination when you notice that ticking crocodile is made of coat hangers and clothes pins.
The play opened in 2009 in Kensington Gardens, then from there proceeded to spend six months in San Francisco, California to where it is now in Orange County, California. Most of the cast is from the original casting in London, therefor most actors are British. One very notable actor in this production is Jonathan Hyde who plays the role of Mr. Darling and Captain Hook. Most will recognize Jonathan Hyde from his roles in Titanic, Jumanji, and Richie Rich. Jonathan does an amazing job as the society conscious Mr. Darling and as the devious pirate Captain Hook. He brings this humor to each character that will have you laughing along with the rest of the audience. For example when he was "swimming" away from the crocodile, you could hear him saying "Splish, splash, splish, splash," instead of using a water sound effect. He will reel you into the story, making you want be in the dog house with him after the children leave or go off to Neverland and become a pirate.
Peter Pan is portrayed by Nate Fallows- though when I saw the play, Nate had a case of laryngitis so his swing, Ciaran Joyce (who plays Tootles), filled in as Peter that show. Ciaran, as told to us before the show by Ian Street (who plays Curly), was an amazing Peter and knew the role inside and out. He was very right, Ciaran played Peter perfectly. From his boyish face and charm, he could charm you with a smile and a witty line, just as if he really was Peter Pan. Ciaran was also very good at getting the mischievous aspect of Peter, the taunting he did to Captain Hook and the pirates. Let's not forget about the more sensitive side of Peter who doesn't want to grow up but still wants Wendy in life even though she does want to grow up.
Abby Ford plays Wendy Darling, though she not that big of name film-wise, except for small, almost unrecognizable role in Harry Potter and the Prisoner of Azkaban where she plays the witch maid at The Leaky Cauldron. Abby played Wendy exceptionally well, bringing the motherly character to the sword slashing that we all love about her but she also shows the sassy side that Wendy has.
We cannot forget about or sassy fairy Tinker Bell who was portrayed by Itxaso Moreno. She was born and raised in Spain, but for the last ten years has lived in Scotland. Her accent, is what said got her the role because it wasn't exactly Spaniard but it was Scottish. The producers saw it as a mystical accent that they thought a fairy who is from a different land would sound like. Itxaso brought the sassy fairy to life, changing our perception of the Disney Tinker Bell that many girls love.
Not only was this an amazing play because of the familiarity to the story, but it was so different from any other theatre production that I have attended. Peter Pan Three-Sixty brings you back to what JM Barrie had brought to this world from his childlike imagination, but it is also great for all ages. There were people there ranging in age from two to ninety two. It is the perfect play for the family to see. Seeing how all the children reacted to the characters (especially when they flew), the fights between the lost boys and pirates, to the ticking Crocodile on stage.
I recommend this play for everyone, even if you aren't a big theatre person. It will be an experience you will not want to miss. The play is currently in Orange County, California until January 2, then it will make its way Atlanta, Georgia. For tickets and more information, go to Peter Pan The Show. I recommend you spend the extra fifteen dollars and do the "Into Neverland" before-show tour.
An awfully big adventure into Neverland that you will want to take.
Latest articles