Mibba Magazine is on Tumblr!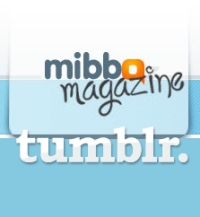 Mibba Magazine is now on Tumblr! The staff have put together an easily accessible blog for all Mibbians that can be found at: MibbaMagazine.Tumblr.com
This blog will allow the Mibba Magazine to keep you updated on all things Mibba in between issues of the magazine. This means that users can look at new content that is updated regularly, including daily writing prompts, story and poem recommendations and advertisements, links to anything writing related, interesting Mibba threads, contest advertisements and any news about the Mibba Magazine.
The daily writing prompts are used to help inspire Mibbians to get their creative side rolling. If anyone writes a story based on a writing prompt, they can submit it to the Tumblr by providing a link through the 'Ask' or 'Submission' section.
The Request List is also another feature that is sure to help Mibbians out. This list provides a number of members who have signed up to take requests in making specific things such as icons/avatars, profile and story layouts, signatures and banners. If you want to be placed on this list, contact Quintessential Bella via private message.
The story and contest ads are a way to get your stories out there and gain more participation and interest in your writing contests with a full sized picture advertisement. These will be posted on the Tumblr account as well as in issues of the Mibba Magazine. For more information on having an advertisement for your story or contest, visit the Mibba Magazine Story Print Ads thread.
The 'Ask' section of the Mibba Magazine Tumblr is open to any questions that users may have. The Tumblr hopes to achieve greater involvement of Mibba users with the magazine. So go and check it out!
If you want to stay updated, remember to follow!
Latest articles