Message Between Two Different Genres Tell All
Country-and-Western music is one of the popular American music forms that originated from the Southwest (country music) and the West (western music) and contains distinguishing driving and syncopated rhythm, high pitched vocals, and emphasis on the banjos, guitars, fiddles, and harmonicas. Rap music is a genre of African American music in which rhyming lyrics are chanted to a musical accompaniment.
Denise Noe is a community editor for the news-magazine Caribbean Star and a writer whose essays have appeared in the Atlanta Journal. She believes that country-and western and rap music are suprising similar in many ways. She believes that both genres of music 'tell stories, as do folk songs, and the story is much more than frosting for the rhythm and beat.' Country-and western and rap music are suprisingly similar in many ways such as sexual morality, the treatment of criminality, the opposition to the government, and even though the type of rhythm and beat are different.
One of the ways that country-and-western and rap music are similar is the sexual morality of both the lyrics and the tones of the artists. For example, men in both genres of music are chauvinists when it comes to believing that men are more superior than women. Hank William's song, "Going Hunting Tonight," contained lyrics such as, "Now those big ol' beautiful wildcats are the kind that are hard to track, cause the joint is crawlin' with other hunters and the she-cat is doublin back." This song declared that he didn't need a gun to go find single women in a singles bar. Male rappers such as Snoop Dogg, Ice-T, and Ice Cube have similarities within their interpretation of chauvinism but includes harsh trademarks such as "bitches" and "hos" and their depictions of women are only existing to please men. NWA's song, "A Bitch Iz A Bitch," depicts that all women are bitches in a way that they act as in Ice Cube's lyric, "That's why when you say hi, she won't say hi. Are you the kind that think you're too damn fly? Bitch eat shit 'n die (Ha ha) Ice Cube's comin at you at crazy pitch (why?) I think a bitch is a bitch." (NWA, A Bitch Iz A Bitch)
Male chauvinism is depicted in both genres. However, both genres feature strong female voices that are confident, and raunchy. Too Short's song had a woman's point of view of men and insults men such as, "Punk, I'm not a tease, I'm not a skeezer, and most definetly not a dick pleaser. You dreaming, and scheaming, and fiending for my lust. You don't have enough, for you I feel disgust. You see, I need a man, not a boy/ to approach me/ your lame game really insults me." (Too Short, Don't Fight The Feeling) Similar to the concept, Loretta Lynn rose to fame with her song, "Don't Come Home a-Drinkin' with Lovin' on Your Mind" that contained such lyrics as, "You never take me anywhere, because you're always gone. And many a-night I've laid awake, and cried here all alone. Then you come home in a-kissin' on me, it happens ev'ry time. No, don't come home a-drinkin' with lovin' on your mind."
Another way that country-and-western and rap are similar are the treatment of criminality. "Now the man at the station's name was Jim I saw it sewed on his shirt/ I told him do what I say you'll live another day nobody's gotta get hurt," sang Ricky Van Shelton about a robbing scenario that probably happened. (Ricky Van Shelton, Crime of Passion.) Same type of scenario when Ice-T wrote the song "Drama" that talked about robbing and dealing with the police and as the scenario took place, " gauges out the window/one lay cross the roof/ they all die if those suckers ain't bullet proof." Ricky Van Shelton and Ice-T both wrote about robbing scenarios and how they felt about it.
Even though country-and-western and rap narrators are often criminals, both genres of songs do express the idea that in the long run crime does not pay money at all, only guilt and shame. For example, Merle Haggard "Turned twenty-one in prison doing life without parole./ No-one could steer me right but Mama tried, Mama tried." (Merle Haggard, Mama Tried) He tried to turn around his life of crime but as it stated in his lyrics, no one could turn it around, not even his mother. Ice-T had the same idea when he was forced to realize that, "The joint is like an oven caged heat/ you're just a number, another piece of tough meat/Killers and robbers are all you greet/ act soft and you will get beat./On death row they got their own hot seat./For those who feel that they are truly elite,/ the last thing you see's a priest,/ the lights dim, your life ends." (Ice-T, Drama) He described the consequences of crime and how committing crime will get anyone to have their life ended on death row.
Another way that country-and-rap music are similar is their message of fighting against the government and standing up for what the people believe is right. In the days of the Iraq war where millions of soldiers are sent and killed each day, people were outraged by seeing the numbers of soldiers that are killed in combat, and the numbers rising for new recruits. Toby Keith felt that way when he wrote the lyrics, "Hey uncle Sam/ put your name at the top of his list/ and the statue of liberty/ started shaking her fists/and the eagle will fly./Man, its gonna be hell/ when you hear mother freedom started ringing her bell./ And it feels like the whole wide world is raining down on you/ brought to you courtesy of the red, white, and blue." (Toby Keith, Courtesy of the Red, White, and Blue.)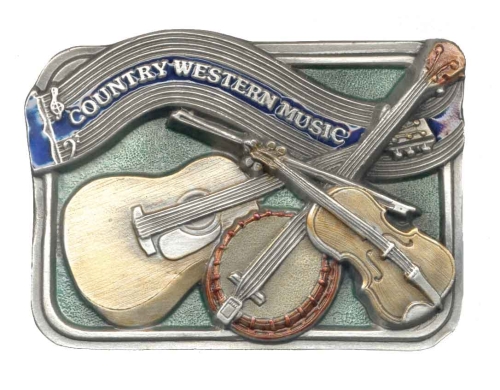 Similar to Toby Keith's reaction to what was happening to the government, Eminem wrote about everyone who felt that the government had gone wrong should unite as a whole and fight for what they stand for. Mosh is one of the most contraversial songs that contained harsh comments about the government and about President Bush. At the end of the song, the lyrics went to his motivation such as, "And as we proceed, to mosh through this desert storm,/ in these closing statements, if they should argue./ Let us beg to differ as we set aside our differences and assemble our own army./To disarm this Weapon of Mass Destruction that we call our president, for the president./ And mosh for the future of our generation/ to speak and be heard."
Country-and-Western and Rap music are surprisingly similar in many ways even though most of the differences come from the rhythm and stance of a music artist. Most of it comes from sexual morality, the treatment of criminality, and the criticism of the government. Noe's textual analysis works when it is applied to magazines of pop culture and from a humanist perspective of both genres. However, Noe concluded her analysis by arguing that, "The laid-back anti-materialism of country-and-western can be dismissed with a shrug, but the rapper is attacked for that unforgivable sin: holding a mirror up to unpleasant truths."
Latest articles