Soccer: The New American Pastime?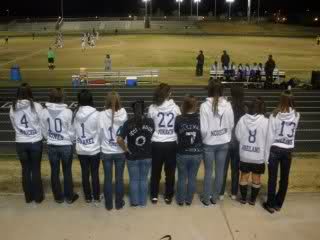 Skeptics may wonder if it's worth investing their time to watch eleven players kick around a ball in an oversized net for ninetey minutes. "Most people don't even like soccer. Ask any athlete, most of them hate it! But not one of them could ever live without it. It's that one feeling, that one last second when something magical happens, and it makes everything worth it," says senior Varsity Goalie Iain Heffington.
The winter sports season has officially begun. Tryouts were brutal, and both the girls and boys teams look forward to an amazing season.
"Both of our teams this year are going to be really good. People will come if they know it'll be a good game. I'd be surprised if they didn't come, only because they'll miss a chance to see me save some crazy shots!" says Heffington.
Soccer is unpredictable at best. Upsets can and do happen on a regular basis, making it an exciting and fun ride for the fans in the stands. It really is a sport that unites everyone, not just the players on the field.
"I love playing soccer. The girls always form a really close bond. It can get pretty intense, especially during a tough game; it always keeps everyone on their toes. Who wouldn't want to watch soccer?" says sophomore soccer player Keana Barrow.
Unlike football, futebol doesn't require frequent stops or pauses besides a half time. The players play an entire 40 minutes each half, where almost anything can happen.
"The girls are always a blast to watch. They're talented young players, and always give us an exciting game. It's definitely worth a watch," says Reana Duncan, a frequent fan at games.
Latest articles