Jim Broadbent as Horace Slughorn in New Potter film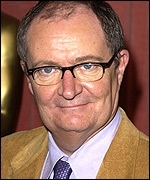 The 6th Harry Potter film began its filming on Monday, 17th of September 2007 and is due to be released on the 21st of November 2008. Jim Broadbent, the famous British actor will contribute to the film by playing the role of professor Horace Slughorn, a potions teacher who likes to befriend celebrity students.
"He's quite a comic character," said Broadbent. "He's a retired teacher of magic who's drawn back out of retirement because he's got some secrets they need in the battle against the Deatheaters and he's quite starstruck as a teacher and he's drawn back into the fold because he likes to notch up celebrity students, and he's drawn back by Harry."
Well this is excellent news. I never really had anyone in mind that could be slimy enough to play Slughorn, but I think Jim Broadbent may be an excellent choice. He is a great actor though; you will all probably remember him from Moulin Rouge, Vanity Fair, Gangs of New York, Bright Young Things or other various film projects.
So more news from the Potter filming! So far, most of all the older actors confirmed their participations in the film and those who haven't made official announcements publicly expressed their interest in reprising their roles. The other information on the filming has been scarce. Auditions have taken place in England in April 2007 for the role of Lavender Brown, but nothing has been announced yet. There have been rumours that Jack Davenport, Stephen Rea, and Peter Rnic are in negotiations for unspecified roles. On 24 July 2007, The Courier-Mail reported that Naomi Watts had been cast as Narcissa Malfoy, with Stuart Townsend and Joseph Fiennes, the younger brother of Ralph Fiennes (Lord Voldemort), also being cast, but Watts, Fiennes and Townsend have denied such reports the next day. Bill Nighy has expressed an interest in appearing in the film and David Yates, the director, has said that if the Minister of Magic, Rufus Scrimgeour, makes it to the final screenplay that Nighy will be his first choice for the role.
The most exciting news so far is regarding the Tom Riddle casting since Christian Coulson, who played Tom Riddle in Chamber of Secrets is too old for the part, a new actor has been taken for that role. "I've found a really interesting kid to play Riddle. I can't tell you who it is yet – it's early days", says David Yates.
We're ought to wait and see!
Latest articles