The Love and Hate of Food
She's dying, her stomach empty. For today she will die of starvation. This isn't what you think. She is not from a third world country, nor is she poor or homeless. She's sick. There is something wrong with her brain. A war is going on inside her, and in true no one is winning. Yet she can't stop, her fears won't let her, just drive her closer to death's door. This is the everyday life of an anorexic.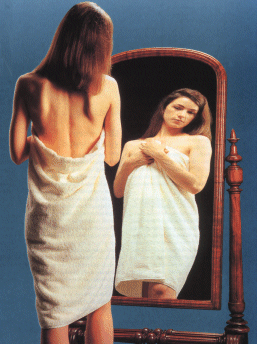 Today thin is beautiful, due to our constant bombardment by the media to be like the famous and successful models or actors that we see everyday. The youth of America is at risk to fall prey to deadly disorders like, anorexia and bulimia. But just what are these two, and what do they have to do with today society? These two diseases (though usually grouped together) are very different from one another. First and foremost we'll focus on Bulimia nervosa; the name bulimia comes from the Greek word meaning "ox hunger". If someone is bulimic it means that they in order to lose weight will purge after eating. They usually binge, meaning eating a large amount of food in a short time period then using laxatives, enema, or indulging vomiting to get rid of the food before the body turns it into fat. Anorexia nervosa on the other hand is a brain disorder in which the part of the brain that controls food intake, body image, and what to eat is damaged, this disease can be genetic and is a result of the chromosome 1p being damaged. Although it does not mean that the person will become anorexic, but there is a higher risk. The actual act of anorexia is simple not eating food, and extreme exercise. People who are anorexic believe they are fat and do not see anything wrong with there way of 'reducing' their weight.

What causes these two eating disorders? As stated in the paragraph above anorexia is a defect of the chromosome 1p. A person is may become anorexic to fit in or to feel that they have control over something in their life. Bulimia can start the same way. Even something as simple as a diet can lead to a disorder. People at risk for bulimia and anorexia include those who were abused as children (usually sexually), those will low self-esteem, models and actors, and athletes (62% of all teen athletes have an eating disorder). Women in particular are at a higher risk of getting a disorder then men (although it is found in both sexes). Studies show that 2.7% of women have bulimia while only 1.4% of men do. Also it has been found that 1 out of every 100 females has anorexia, and 95% of all anorexics are female. Eating disorders usually occur in whites around the ages 8-18 or 40-60 years of age. In males with bulimia many are homosexual, and become bulimic or anorexic because they are judged on how they appear like women.

How could you know that someone has an eating disorder? You might be surprised. Bulimics may be able to maintain a normal weight and show little signs of any major problem. Symptoms or signs of bulimia are being tired, lose of hair, also the knuckles of the person may become bruised from forced vomiting. Other things to look for are not eating in front of others, bad breath, and spending long periods of time in the bathroom following meals. Signs of anorexia are picking at food or cutting it up to make it look as though they have eaten, dull hair, and skin also the look of being a skeleton and sunken in.

The effects of these diseases can be deadly. In bulimics the esophagus is hit hard. The person can suffer from sores from stomach acids, narrowing of the throat, tears in the lining, and even rupture of the esophagus causing massive bleeding needing immediate emergency surgery. The stomach is also effected the person can get gastritis, inflamed stomach lining, and if food is eaten to fast and too much the stomach may explode and they would die from peritonitis. The lungs may also be hit when the person forces vomiting and acids and food particles fall into the lungs, pneumonia can be caused by this also. Other effects include kidney failure, heart failure, kidney stones, ulcers, sudden death, uneven heart rate, high alkali levels in blood and problems later in life. In anorexics the effects come fast and hard effects include reduced heart size, low blood pressure, small stomach (not being able to eat), abnormal echocardiograms, stomach pain, being cold most the time, thinning of bone, yellow skin, dry or cracked skin, and brittle nails, and for women lose of the period and the ability to have children while they are underweight. Every year 6% of the people with Anorexia will die from starvation. It is more deadly then bulimia in the fact that bulimics know they are harming themselves and may even seek out help, while an anorexic person does not believe they need help at all.

Not only is the person with the disorder effected, their family and friends are as well. Many people with an eating disorder feel that no one understands them. They may become withdrawn and not go out with friends. Depression is a major side effect of these disorders. Also it can be deadly. In sororities, beauty is sometimes key. There have been stories of girls who have friends with eating disorders and then become anorexic or bulimic themselves. Think about it, if all of your friends are thin you'd want to be too. They often pressure each other to lose more weight, turning it into a sick game of dodge death.
The good news is that bulimia and anorexia can be cured. A person with bulimia maybe more willing to seek help and has a better chance of less or no relapse. While an anorexic is prone to relapse because it's a brain disorder. There are rehab centers for eating disorders sort of like a drug rehab, where they learn to use food correctly and not fear it. Seeing a physiologist is another important step along with regular check ups. For some (mostly anorexics) hospitalization is necessary, due to the fact they are reluctant to go on there own will. Feeding tubes may be placed into them along with fluids to re-hydrate them and try to get them on track again. Also medication for other problems leading to these disorders can help prevent relapse (i.e. depression, OCD), but before all that a person must be diagnosed with an eating disorder. The current standard for a full blown eating disorder is 85% less then normal size.

The history of eating disorders is rather interesting. Anorexia was first called by this name in 1873 by Charles Lasegue, another doctor by the name of Sir William Gull studied anorexia in girls. The disorders have been traced however back as far as the 14th centaury. Some came from religious beliefs and rituals, such included extreme fasting and inducing vomiting as punishment for disobeying god. In the 16th century however having such a disorder was seen as demonic possession and they were killed as a witch. Bulimia was first called by its name in the 1970's. The act of binging and purging was mentioned in 1743 medical diaries though. It was referred to as dysorexia, bulimarexia, and dietary chaos syndrome.

One story is of a young woman named Anne Moore who stunned many doctors in 1807 by saying that she could live without eating. This however may not be true, she is believed to have binged in private and then induce vomiting. A more recent account of just how deadly anorexia in particular can be is the case of Christy Henrich. Christy was a professional gymnast, because she was a gymnast she had to stay thin all the time. She fell into a pattern of anorexia that cost her, her life. She died at age 22 at a weight of 47 pounds. This is one of the most extreme cases ever reported. There are many other stories and they are all around you. You're neighbor, the person who sits next to you in math class even your own sibling could be affected by anorexia or bulimia.

Anorexia nervosa and bulimia nervosa are on the rise, in both girls and boys of all ages. Reports are coming in as 7-10 times higher then before of people with either anorexia or bulimia. These disorders are deadly they kill fast and even if you can get out of it you may still have problems late on in life. The reason that so many children have these disorders is that they can be hidden easily. Remember a person may appear normal and happy, but inside their brain may rage a war of the love and hate for food.
Latest articles