Prehistoric Animal Found In New Zealand Ocean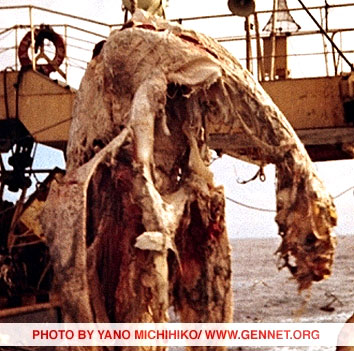 In April 25, 1977, Michihiko Yano and his fishermen were on their boat catching their fish to sell, when all of a sudden their net caught something. Curious as to what it was, they pulled the net up,and were shocked to find that they had dragged up a 4,000 pound decomposing animal. It was 33 feet long and it had an elongated neck measuring in 1,500 m, the animal also had four flippers, two in the front, and two in the back, with an elongated tail.
Not wanting to contaminate their fish on board, they put the animal back into the ocean, but not before taking many pictures and tissue samples from the animal.
When he had notified the officials, there was talk about how the decomposing animal had striking similarities to a Plesiosaur, a prehistoric sea monster that lived in the Mesozoic Era in the early Jurassic period to the end of the Cretaceous period. As you can imagine there were many controversies towards that theory.
Scientists examined the animal's tissues and had found that it contained shark DNA. When this was found out, scientists were saying that the animal Mr. Yano had found was most likely some sort of whale or shark. They basically whitewashed the situation saying it had to have been a shark because they decompose in such odd manners. Everyone had their own opinions on what it could be. Scientists say that the only way they would be able to tell whether it was an actual Plesiosaur was if they had the animal's skull. We've had many sightings of the famous sea monster, but this man had tangible proof, pictures and tissue from the animal.
That sounds easy enough, right? Well, nothing was ever heard of them actual going back and trying to find that decomposing animal. Something as important as that, one would think that they would rush to scene, wouldn't you? Who knows, but I do find it odd that they wouldn't, it seems pretty reasonable to send out a search crew, doesn't it? I mean for all we know, we could have a Plesiosaur in our oceans, and we don't even know. Maybe they did go back and find it and just never put it out to the public. Maybe they found out something, and they just don't want to alarm us and cause this huge problem?
I don't know, maybe I'm just making a big deal about this, but it's just out of sort that they wouldn't go looking for the skull, I mean what reason would they have not to? It's just odd how they handled it.
They say that a more thorough examination would argue against the Plesiosaur theory, but how can they say that when they aren't even sure what it is? They say that yes, the animal has many basking shark similarities, but like they said they can't be sure, until they see the animals skull. They can't say that it's most likely this or it's that, they need to be sure, to actually come tell us that it's a variation of a shark.
They're not sure, so how can we be?
Sources
Latest articles