National Day of Silence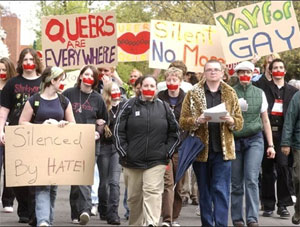 The gay hate crimes in the US have grown to a staggering rate. Kids are being killed in their own schools simply because of their orientation. They're being hated for something they can not help. Sexual orientation is about the same as skin color or ethnics. It can't be helped. Aren't we all human? Aren't we all the same in one way or another?
How are they any different from us?
To speak out against the violence, the National Day of Silence was created. In 1996 at the University of Virginia, over 150 students taped over their mouths. This was a protest, to show they support the gay lifestyle, and wish to end the silence. For one day, they joined those who have been silenced by others.
On April 10th, 2002, the largest single student-led action to creating safer schools happened. Over 100,000 students participated in 1,900 schools across the country. Elliot Engle stood up as a Representative to congress, and made the notion to make the Day of Silence a national occurrence. This received support of over 29 cosigners. From there on, breaking the silence rallies manifest in NY, MI, MT, FL, OR, CO, and in Washington DC.
Since then, the Day of Silence has grown, gaining supporters and sponsors alike. Last year alone, hundreds of thousands of students from over 8,000 schools participated on April 25th. That year, the Day of Silence was commemorated to Lawrence King. Lawrence was a 15-year old eighth grader in California. He was shot and killed by a 14-year old classmate because of his sexual orientation and gender expression.
My school is among the thousands that celebrate this day. On April 17th, 2009, over fifty of our students will take a vow of silence, to stand out against anti-gay bi lesbian and transgender abuse.
Please, help end the silence.
Latest articles