Hayley Williams: A Young RIOT!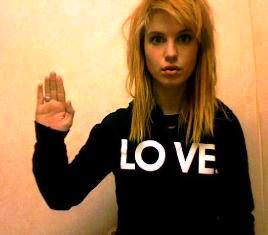 "I think all of us, at some point early on in our lives, knew we wanted to create music. We are still really young and sometimes we do feel like we have to prove we're as great as all the rest of the bands- old and young. But we just do what we love and people seem to be really excited about it."
Hayley Williams is a hero because she has done so much for people, whether it be in theory or in person. She supports people's charities, blogs on Paramore| The Official Site and Community, rocks out, and takes pictures with fans. She supports a lot of good causes, and still does her job as a lead sing and songwriter in a rock band. She even has her own style and likes to stick to her own trends; one of which being her trademark red hair. She is very good with focusing on her music and everything else normal person does. She is a revolution in rock, trying to smash the thoughts that only men can be in the rock business with her male band mates by her side.
Hayley Nichole Williams was born on December 27, 1988 in Meridian, Mississippi. Her parents are Joe and Christi Williams and she also has two younger sisters: Erika and McKayla. At the age of 13 her mother and ex-stepfather (who has remained unnamed for legal reasons) decided to move the family to Franklin, Tennessee. There she met brothers Josh and Zac Farro, starting a funk cover band called "The Factory". Her musical influence include Jimmy Eat World, Chicago, and Sunny Day Real Estate.
Around the age of 14/15, Hayley and her fellow band mates quit The Factory and started Paramore, also having a new addition: Jeremy Davis. They decided on the name "Paramore" by using the maiden name of a previous band mates mother. The band has been active since 2004. In 2005 the band released their first major album All We Know is Falling. While having the band, Hayley and her fellow band mates started supporting different charities and organizations. They support charities such as TWLOHA (To Write Love on Her Arms), Love146, and Save the Franklin Theatre. TWLOHA is an organization that tries to help people with self-abuse, suicidal tendencies, depression, drug and alcohol abuse, and other related issues. Love146 is an organization that is trying to prevent child sex slavery and exploitation. Save the Franklin Theatre is a charity that is working on preserving Franklin's cultural and city memories; on of their biggest focuses being the Franklin Theatre.
in 2007 the band released their second major album "RIOT!". 2007 and 2008 have been busy years for Hayley and the band, having many interviews with Rolling Stone magazine. These interviews include a Q & A, her thoughts on the next album, how she connected to Twilight, and the bands "internal issues." In October 2008, the band worked on two songs for the Twilight movie: Decode and I Caught Myself; Decode being the movie's lead song. Hayley is currently working on the songs for the bands newest album, which is expected to be released some time this year.
In a recent interview with Music Choice called RockU, Hayley said, "We try not to think about it so much as awww it's a girl band kind of thing because of lot of people sort of lump all of us chicks in the same pot. I think the more we see ourselves as like, you know, its a girl band or whatever, the more we're going to limit ourselves. Its a cool responsibility, a cool opportunity to maybe inspire other, other girls out there feeling like maybe they can't do it. Maybe they can get some inspiration from us and the fact that we're doing it and we're having fun with it."
Hayley has said in many interviews that her goal is to "make music that people, 30 or 40 years from now, wish they were around for." She has taught many people to have hope, courage, and to believe in themselves. She has done so much for the music world alone, being a revolution in rock- a female singer trying to break the barrier between those who believe women should be able to be in the rock genre and those who don't. By supporting the good causes she does, people will remember her for what she has done to help them. And maybe they wont remember her name, but they'll sure remember her by what she looked like: a simple, red-haired girl who wasn't afraid to follow her dreams.
Sources
Hayley's Profile on Paramore.net
Paramore Biographyon Paramore.net
Latest articles