September Suicides
It's been almost three months now since nine gay teenagers took their lives. September 2010 marked the highest, most publicized number of homosexual teen suicides due to anti-gay bullying. This was truly alarming to most people; however, as in all things news related, the story has been forgotten, not mentioned on any television news programming now whatsoever. As is noted by the American Foundation for Suicide Prevention, suicide is the third leading cause of death for young people between the ages of 15 and 24, following only unintentional injury, as would be caused in motor vehicle accidents, and homicide. The immediate medical cause associated with suicide is Depression. Alarmingly, about 15 percent of the population will suffer from depression at some time during their life. It is not uncommon. Homosexuals and bisexuals are about 50% more likely than their heterosexual counterparts to suffer from depression.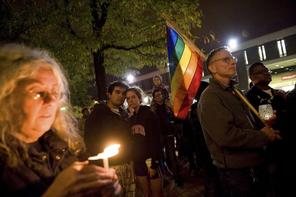 In our society, this is not surprising. The Federal Government does not recognize gay marriage and is prohibited from doing so by the Defense of Marriage Act. Same-sex marriages are only granted in 5 of the 50 states, as well as in the District of Columbia. These five states are Connecticut, Iowa, Massachusetts, New Hampshire and Vermont. Pennsylvania, clearly, is not one of these states. Religion is a factor as well; Islam and some sects of Christianity, as well as Orthodox Judaism, condemn homosexuality. In addition, the military bans the military service of openly gay soldiers in Don't Ask Don't Tell. Political parties address same sex marriage in different ways: the Republican Party is against it, the Democratic party believes this issue should be decided by the states with no federal ban. With so many people dancing around the core problems and limiting gay rights, kids and teens in our nation often feel that the bullying and mistreatment of their homosexual peers is acceptable. As a result of this, and of the widespread lack of punishment for those who attack gay students, came the tragic events of this past September.
Billy Lucas, a freshman in high school, hung himself from the rafters of his family's barn in Indiana after being tormented by bullies. He had never come out as being gay but those around him assumed he was, calling him a "fag" and telling him to kill himself. He had told his school's administration but they did nothing. He died on September 9th.
Cody J. Barker, a 17-year-old teen from Wisconsin, was working in his school to form a Gay-Straight Alliance. He was an active member in his community. Barker died on September 13th.
Seth Walsh a 13-year old boy in California, took his life as a direct result of anti-gay bullying. His younger brother, Shawn, 11, said as follows at the memorial service "I just wish people could have been nice to him." Seth came out as gay and was tormented for his sexuality. He attempted to hang himself and was found unconscious under a tree in his backyard. He was placed on life support but succumbed to death on September 19th.
Tyler Clementi, a Rutgers University freshman, threw himself off of the George Washington Bridge after a private sexual encounter of his with another man was taped and broadcast online by his roommate and another student. These students, Dharun Ravi and Molly Wei have only thus far been charged with invasion of privacy but many activist groups are calling for harsher charges. They could each face up to five years in prison for what they did. Clementi posted a goodbye message on his facebook before jumping from the bridge which read "jumping off the gw bridge sorry." He had been a distinguished musician who was the unfortunate victim of cyber-bullying. Gay rights groups on campus say that this would not have happened if Clementi had been discovered with a woman. He died on September 22nd.
Asher Brown, a Texas 8th-grade student with straight A's and a vibrant smile, shot himself in the head after constant harassment from his peers. He was assumed by many fellow students to be gay and was abused in physical education class. Classmates performed mock sexual acts despite his protests and ridiculed him for his religious views as well as for his clothing. He died on September 23rd.
Harrison Chase Brown, a 15-year-old from Colorado, took his life on September 15th, likely as a result of anti-gay bullying.
Raymond Chase, 19, was found hanging in his Johnson & Wales dorm room in Providence, Rhode Island. He was outwardly gay. Chase died on September 29th.
That same day, Felix Sacco, a 17-year-old teen from Massachusetts, jumped from an overpass onto a southbound lane of route 1. He was bullied by his homophobic peers.
Lastly, Caleb Nolt, a 14-year-old student in Indiana who was a victim of anti-gay bullying despite his heterosexuality. He was targeted by bullies and tormented. Nolt died on September 30th.
These nine deaths are both alarming and sobering. There is, evidently, much more widespread hatred of LGBTQ youth in America than what most of us experience. This is a fact that we must be aware of and that I believe we must combat. Nine teens took their lives in one month as the result of anti-gay bullying. They are not the only ones. This trend must end now. The bullying and intolerance need to stop.
Latest articles