Elizabeth Taylor: Her Most Memorable Jewels
Perhaps the only thing more iconic than Elizabeth Taylor herself, was her jewelry. Throughout her seventy-nine years of life, Dame Elizabeth Taylor had acquired possibly the largest private collection of jewelry ever known. Although there are too many pieces to count, there are a few jewels that truly are the pinnacle of her collection. Take a look at some of her most memorable pieces here.
The Taylor-Burton Diamond
When discussing some of Miss Elizabeth Taylor's most famous pieces, there is one piece in particular that is truly the definition of iconic. This monstrous 69.42 carat pear cut diamond ring was cut by Henry Wilson who put the ring up for auction in 1969. After the brand, Cartier, won the ring for $1,050,000, Elizabeth Taylor's fifth husband, Richard Burton, went on to buy the ring from Cartier for $1.1 million.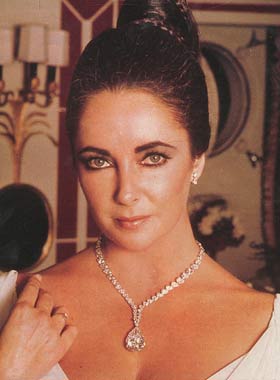 When presented with the stone, even Elizabeth Taylor could not wear this giant diamond as a ring. Instead, she worked with Cartier to produce a diamond necklace to hang the huge diamond on as a pendant. The necklace itself cost nearly forty-thousand pounds. Elizabeth Taylor first wore this necklace publicly at Princess Grace's of Monaco birthday party.
After her divorce from Richard Burton, she went on to put this diamond up for auction in 1978 where it went for five million dollars. The money was then spent on building a hospital in Botswana.
The Krupp Diamond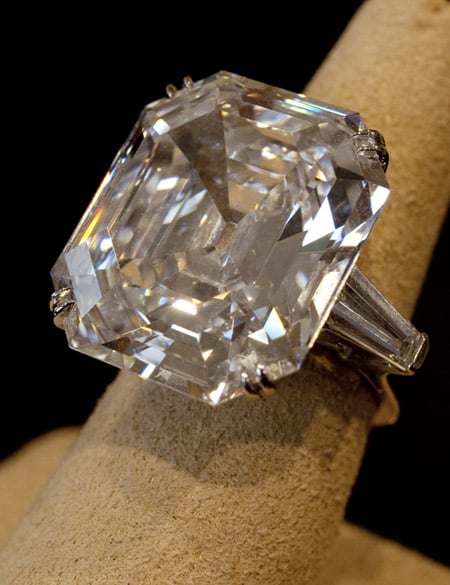 Although the Taylor-Burton Diamond might be the most memorable piece in the collection, it certainly was not the first jewelry piece bought for Elizabeth Taylor from her husband Richard Burton. Less than a year before, Burton presented her with the Krupp Diamond: a 33.19 carat, Asscher cut diamond which was considered to be one of the most flawless diamonds in the world.
The Krupp Diamond was previously owned by Vera Krupp, hence the name, who was married to Alfried Krupp. Krupp was a major supplier of arms to the German Nazis and upon learning this, Elizabeth exclaimed, "how perfect would it be if a nice Jewish girl like me were to own it."
After the Vera Krupp estate went up for auction, Richard Burton won the ring in a fierce bidding war for $305,000. The ring quickly became Elizabeth's favorite piece and she almost never took the flawless diamond off. The diamond was then rechristened to be called "The Elizabeth Taylor Diamond".
The Grand Duchess Vladimir Suite
Yet another present from Richard to Elizabeth was this humongous emerald and diamond set, composed of a necklace, bracelet, earrings, and brooch. It was quickly named 'The Grand Duchess Vladimir Suite' because of the resemblance to the tiara now owned by Queen Elizabeth II. The set, made by the exclusive brand Bulgari, was only worn on special occasions; one of which being the first marriage ceremony to Richard Burton in 1964 held in Montreal, Canada.
In 2010, Bulgari opened the jeweled retrospective in Paris where it boasted the 150 carat emerald and diamond suite from Elizabeth Taylor's private collection.
La Peregrina Pearl
This rare and exquisite pear shaped, 223.8 grain pearl was found in the sixteenth century by a slave in the Gulf of Panama. The pearl was returned to the Spanish and then was passed on to Mary Tudor of England upon her engagement to Prince Phillip II of Spain. Since then, the pearl had left the Spanish's possession and was passed on to Louisa Hamilton, Duchess of Abercorn.
When the pearl went up for auction in 1969, Richard Burton quickly snatched it up for $37,000 and presented it to Elizabeth during their first marriage as a Valentine's Day present. Soon a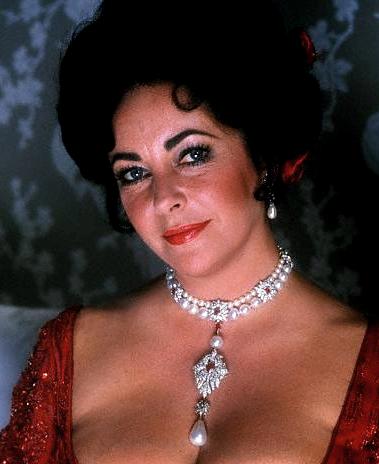 fter, Elizabeth commissioned Cartier to design a necklace for the pearl which included pearls, rubies, and diamonds.
After Elizabeth Taylor's death, the pearl and necklace went up for auction, along with other famous jewelry pieces from Elizabeth's estate. The pearl and necklace sold for a record $11 million at the Christie's auction in New York. It is still considered to be the one of the most perfect symmetrical pear shaped pearls in the world.
Taj Mahal Diamond
This majestic necklace has just about as much history behind it as it does glamour. It is believed that in 1627, the emperor of India, gave this heart shaped diamond to his son, Shah Jahan. He then passed it along to his favorite wife, Mumtaz-i-Mahal. It was Shah Jahan who would build the Taj Mahal in honor of his wife who passed just four years later.
Richard Burton won the heart shaped diamond in auction in 1972 for £350,000. Richard later joked, "I would have like to buy the Taj Mahal for Elizabeth, but it would cost too much to transport it!" Since the diamond was in Elizabeth's possession, Elizabeth replaced the silk cord of the necklace with one made with diamonds and rubies.
When the Taj Mahal diamond went up for Christie's auction, it fetched a whopping $8.8 million; a record breaker for the price of an Indian Jewel. This piece was the second most expensive piece at the Christie's auction, just behind the La Peregrina Pearl.
Antique Diamond Tiara
Richard Burton is not her only husband who showered her with expensive jewels. In 1957, Elizabeth's third husband, Mike Todd, bought her an antique diamond tiara for an estimated $60,000. Upon presenting her with this gift, he said, "You are my queen, and I think you should have a tiara".
Although it was unpopular to wear tiaras at the time, Elizabeth first wore the piece to the 1956 Academy Awards where her husband went on to win the Oscar for Best Picture for his film Around the World in 80 Days.
Cartier Ruby Suite
After Mike Todd had given Elizabeth the antique tiara, he surprised her yet again with a beautiful ruby and diamond necklace, earrings, and bracelet; all made by Cartier. He surprised her poolside at their home, and Elizabeth was so elated from the present, that she tried them on, she jumped into the pool wearing the jewels!
The necklace, earrings, and bracelet suite was sold at Christie's auctions for $5.4 million.
Other Iconic Mentions
The Prince of Wales Brooch
The Prince of Wales Insignia brooch had originally belonged to Wallis, Duchess of Windsor. Elizabeth had been a longtime admirer of the unique piece and when the brooch went up for auction in 1987, Elizabeth quickly bought it.
The Granny Suite
To celebrate the birth of Elizabeth's first grandchild, Richard Burton presented her with a lion-themed necklace and matching earrings. The Van Cleef and Arpels set went up for auction after Elizabeth's death.
Diamond Chandelier Earrings
Elizabeth first saw these earrings in a Paris shop; only the earrings were not diamonds but paste glass. No matter, Elizabeth bought the earrings but when she tried them on a couple months later, she noticed there was something different about them. Her husband, Mike Todd, then explained to her that he had the earrings remade with true diamonds rather than paste.
Bulgari Sapphire Sautoir
The 52 carat sapphire and diamond Bulgari pendant was given to Elizabeth for her 40th birthday by her then husband, Richard Burton.
So which one of these beautiful pieces would you have liked to wear? Sound off in the comments and tell which one of these iconic pieces of Elizabeth's jewelry are your favorite?
Latest articles