A New Species Discovered In The Mediterranean Can Live Without Oxygen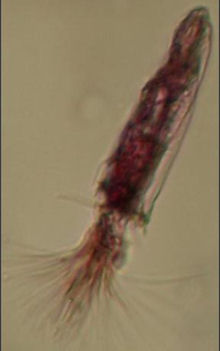 Three species, named Loriciferans because of all their protective layer, have been discovered 2.2 miles underwater on the ocean floor in the Mediterranean Sea, just off the coast of Crete. The area where these creatures were found had almost no oxygen at all.
These animals were discovered by a team headed by Dr. Robert Danovaro from Marche Polytechnic University down in Ancona, Italy.
Of these three species, only one has been formally named. It is known after Spinoloricus Cinzia, which was named directly after Dr. Danovaro's wife. The other two only have the names Rugiloricus and Pliciloricus.
These three species resemble that of a jellyfish. They were only about a millimeter long and were encased in protective shells. They were found during three seperate expeditions in the sediment of L'Atlante basin, which is in the Mediterranean. This was supposed to take place for about ten or so years.
Danovaro had mentioned to BBC news that several bodies and carcasses of these multicellular animals had been found all in sediment. This sediment was in the Black Sea, and was also very low in oxygen. Only these did not fit into the discoveries of the expedition at first because they were thought to have carried and drifted there from closer and more oxygen-rich water.
Two of three of these creatures were found with eggs, and although the original died after releasing these eggs, successful incubation was provided on the expedition ship, and the eggs were able to be grown and hatched in an enviroment that was deprived from oxygen.
Dr. Danovaro quotes: "It is a real mystery how these creatures are able to live without oxygen because until now we thought only bacteria could do this."
Latest articles