Screaming, Unconscious - Then Dead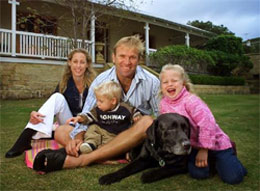 Past West Coast Eagles football star Chris Mainwaring was apparently pacing his backyard screaming for help just an hour before he died of an assumed heart attack on Sunday the 30th of September. He rejected paramedic's assistance who them after some coaxing found him unconscious in his Cottlesloe home.
Police have confirmed they were called to Haining Avenue in Cottlesloe about 11.25 PM after reports of a man yelling and calling for help in the street.
They found Mainwaring outside but apparently calm. He was left in the care of a neighbour and reportedly went home without incident shortly after.
But an hour later, ambulance officers - called again by his neighbour - were back at the house after Mainwaring began suffering seizures. He was unconscious when they arrived. He was taken to Sir Charles Gairdner Hospital but could not be revived. Mainwaring is survived by his wife Rani, and two children, Maddy, 8, and Zac, 6.
None of his family members were in Perth the night he died.
Mystery still surrounds the sudden death of the 41-year-old dual premiership player, as the close-knit West Australian football community comes to terms with the shock loss of one of its favorite sons.
Police have refused to confirm reports his death was drug-related, but close friends confirm that they have been concerned about his mental health for weeks. Health experts say that a combination of his age and his grueling exercise regiment on Sunday morning may have left him vulnerable to the effects of ecstasy.
Australian Medical Association emergency medicine spokesman Dr David Mountain said seizures were often the result of low sodium, caused by poor hydration, which can follow exercise and ecstasy use. "If sodium levels get very low, then it can cause seizures," he said. In 1993 Mainwaring pleaded guilty to possessing marijuana. He twice lost his license for drink-driving.
CHRIS MAINWARING
BORN: December 27, 1965
DIED: October 1, 2007
RECRUITED FROM: East Fremantle (WA)
PLAYED: West Coast, 1987-99, 201 games, 84 goals
HONOURS: premiership player 1992, 1994; 2nd best and fairest 1989, 1992, 1996; 3rd best and fairest 1987, 1988; All-Australian 1991, 1996; WA representative in eight matches 1987-92 (captain in 1991); West Coast life member 1994.
Latest articles