Tackling Sexism in Football
After the BBC recently released video footage of Premier League football fans shouting sexist abuse at Chelsea FC medic Dr. Eva Carneiro, women's advocate group Women in Football has joined forces with Everyday Sexism to tackle the issue of sexist abuse in English football. Their month-long campaign is designed to celebrate women working in the football industry and their achievements while simultaneously encouraging education and better responses from the Football Association (the FA) in regards to reports of sexist abuse within the sport's infrastructure.1
Attacks on Eva Carneiro
This month the BBC released video of Premier League matches between English powerhouses Chelsea and opponents Manchester City and Manchester United that took place in the autumn of 2014 at the beginning of the 2014/15 competitive season. The video features Chelsea's lead physio Dr. Eva Carneiro being subjected to offensive chanting from the crowd.2
The footage, in which supporters can clearly be heard loudly singing, "Get your tits out for the lads." at Carneiro on the sidelines, among other sexist abuse, went largely ignored at the time of the incidents despite being reported.3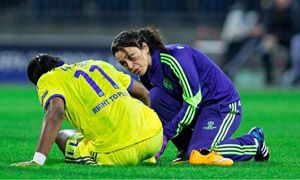 However, after the emergence of the video evidence, Manchester City has attributed the failure to address the issue as a result of a "breakdown in communication" that allowed for the failure of proper investigation procedure, rather than an intentional disregard to the report. Similarly, Manchester United did not take action against their fans as the abuse was happening because the club claims that no report was made during the match. They forwarded the incident to the police after the game had ended, as is correct protocol.4
The reports were only two of the thirteen separate incidents of sexist abuse recorded by Women in Football during the 2014/15 season thus far that have gone widely ignored and unpunished.5 A spokesperson for the organisation has been quoted as saying, "Women in Football are appalled that sexist abuse has been allowed to thrive, unchecked, around some of the country's most iconic football stadiums. We are gravely concerned at a lack of action on this issue, and the negative message this sends to women in the football industry."6
Banter and Lad Behaviour
The vile chants and jeers at Dr. Carneiro are not isolated incidents and sexism within the game is not confined to the pitch, reports Women in Football. According to a survey completed last season, they found that over 1,200 women are currently employed within the English football league system with two-thirds of those subjected to sexism during the course of their job and 89% had witnessed it, yet failed to report the harassment due to fear they would not be taken seriously.7 It's a fear that Women in Football states is substantiated by the FA's lack of response to incidents of discrimination that are reported.
Mansfield Town chief executive Carolyn Radford told the BBC, "You are almost made to feel if you should be made to tolerate such abuse. If it was racist language being chanted at me then perhaps people would say something about it, but because it's just banter, so to speak, I've got to flick my hair and just accept it."
This view that sexism is simply banter is commonly accepted and causing widespread damage to female equality in the sport, according to Women in Football chair Anna Kessel.
"Sexism in football is so entrenched within the culture of the game to a point where racism is recognised as wrong but sexism is just recognised as banter."
Kessel also added that, "Women don't have the confidence to report it. This is the message that we're getting through our network." It is a sentiment she claims exists because stadium staff are not trained on how to recognise and deal with sexist abuse at matches.8 Women are afraid to speak up knowing that stadium security are not equipped to handle these situations on matchday when they arise.
#SheBelongs and #ShameOnTheGame
To combat the rampant sexist abuse allowed to plague the game, Women in Football has created a month-long campaign for March with the support of Everyday Sexism and Minister for Sport Helen Grant.
Using social media, Women in Football are currently highlighting the women who work within the football industry with their #SheBelongs tag. As part of their initiative, they have reached out to all 92 clubs within the English league system to ask them to join the movement by profiling the inspirational women who work for their clubs.
In addition to shining a positive light on women involved in football, they have created #ShameOnTheGame to raise awareness of the abuse and discrimination women face in the sport. They hope that the tag will open the conversation on sexism and create an environment in which individuals feel comfortable enough to report incidents without fear of being brushed off.9
They have also used the campaign to promote the education and training of stadium staff and stewards to recognise sexist abuse, intervene, and appropriately report grievances on matchdays.
As the founder of Everyday Sexism, Laura Bates, has said, "It is time that clubs and fans alike stand together and take responsibility for creating a space where everybody can enjoy football, free from any kind of prejudice."
---
If you experience sexist abuse on matchday, you can report it to info@womeninfootball.co.uk or on their website. You can remain anonymous.
Extra Links
Latest articles