Dumbledore: GAY!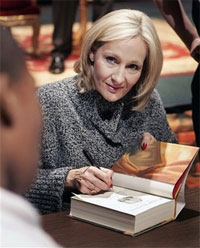 Famous writer J. K. Rowling gave the crowd something rather juicy to talk, blog and write fan fic about while on her "Open Book Tour" in the United States (the first one there since 2000).
Friday, while in New York at Carnegie Hall, the mistress of fantasy writing outed on her character.
The author of the beloved series of teenage wizard Harry Potter read briefly from the final book, "Harry Potter and the Deathly Hallows" and proceeded to answer questions asked by the "full-house audience."
Reportedly, "one young fan" asked whether headmaster Albus Dumbledore is ever to find true love. Rowling's answer caused gasps and applause: "Dumbledore is gay." She explained that Dumbledore was very much in love with future rival Gellert Grindelwald. "Falling in love can blind us to an extent" she added and also Dumbledore was "terribly let down". The writer also noted that love was Dumbledore's "great tragedy".
Not everyone likes her work, Rowling said, likely referring to Christian groups that have alleged the books promote witchcraft. Her news about Dumbledore, she said, will give them one more reason.
However the closure was rather amusing: "Oh, my god, the fan fiction!" Rowling concluded with a laugh.
Latest articles