Man Saves Kangaroo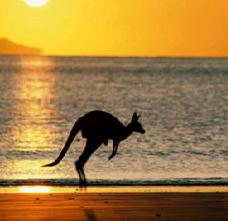 Neil McCallum from Kirra, Australia became the media's big news after he saved a kangaroo that was drowing.
McCallum, 48, and his fifteen year old son were jogging home from a morning run on Tuesday when they came across a young kangaroo that crossed the street and plunged into the ripping ride of the Kirra Beach. He claimed that he had an immediate concern for the animal due to recent alerts of sharks.
The part time surfer ran into his house, grabbed his surfboard quickly with little time to explain to his wife, and plunged into the water after the kangaroo. His wife Amanda, still in pajamas, hurried outside after him and recorded the entire scene.
McCallum eventually was able to bring the animal back to shore and the frightened creature scurried off on his way. The kangaroo was wet, but was unharmed. Slightly shocked, but no harm was done at all.
The family said that they had never seen a kangaroo around their part of the city and obviously haven't seen many of the animals dive into the water. It was an unusual case and it was a quick rescue mission. For all of you animal lovers out there, be glad there are people like Neil McCallum.
Latest articles