Seventeen-Year-Old Goes Missing in Myrtle Beach, SC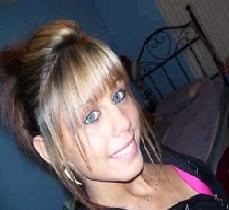 Brittanee Drexel, seventeen, has been missing since April 25th. She lives in Rochester, New York but decided to take a spring break vacation in Myrtle Beach, South Carolina against her mother's wishes. Now she's missing. Her mother, family, and her boyfriend put up fliers in the Myrtle Beach area in hopes of finding Brittanee. On a surveillance camera, she was last seen at the Blue Water Resort at 2001 Ocean Blvd sometime after 8:30 P.M. She was staying at the Bar Harbor Hotel at 100 North Ocean Blvd.
Appearance:
Height: 5 ft.
Weight: 103 lbs.
Hair color: brown with blond highlights; shoulder-length
Eye color: blue
Last seen wearing: multi-colored shirt, black shorts, and flip-flops
Her mother worries, because she suffers from depression. Her mother says that their household was "very stressful", and her mother's awaiting divorce might've contributed to her depression. Her mother also misses her and said, "I'm just getting really nervous. I just want my daughter. I just want her to be with me."
Her mother had contact with her daughter through cell phone Thursday through Saturday of that week, but, at 8 P.M. Saturday, that contact stopped completely. They talked about soccer equipment that her mother was buying her. Police have little evidence to look into in order to find the missing teenager.
The last person she was with was Peter Broswick. He is another guy from Rochester and was with another group at the Blue Water Resort. He checked out after seeing Brittanee at 1:00 A.M. a few hours before. He was the last person to hear from Brittanee. Several people have been mistaken as Brittanee but weren't really her.
If you have any info, contact the Myrtle Beach Police at (843) 918-1300, 1-800-CRIME-TV or 1-800-THE-LOST (843-5678.)
Sources and more info:
FoxNews.com
CarolinaLive.com
Latest articles