California Ravaged By Wildfires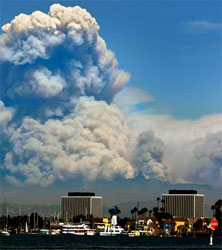 As of August 30, 2009 Governor Arnold Schwarzenegger declared a state of emergency in four counties, including Los Angeles county, seeing as the fires are spreading from the Pacific ocean all the way to the Sierra Nevada. The biggest of these eight fires is the "Station Fire" which has spread throughout the Angeles National Forest being one the two largest wildfires in Los Angeles County history. The last time a fire this big ravaged Angeles National Forest was back in 1897, but not much is known about that fire.
The Station Fire has been uncontrollable for the past five days and is expected to not be under control for another two weeks. As of Monday, August 31, 2009 the Station Fire is still only at five percent containment. Mandatory evacuations have been issued throughout La Canada Flintridge, Altadena, and Acton. Although many in the La Canada Flintridge and Altadena areas have been able to return home nearly 6,300 homes stretching from parts of Altadena and Acton are still under mandatory evacuation. Not only are people having to leave their homes in the protection of the brave firefighters but many people who have been evacuated from the Acton area are farm/ranch owners. Many of these people have had to load up their animals and take them to one of the many shelters set up for the animals such as the Antelope Valley Fair Grounds.
As if the fires not threatening homes was bad enough the residents of southern California have to worry about air quality. Seeing as the eight fires are not spread that far apart from each other and the exceedingly hot, dry conditions have created massive smoke clouds across the southland. On top of the smoke polluting the air, ash coats peoples homes, cars, and themselves making certain parts of the southland heavily affected by this looking like it has been coated in snow.
While fighting the station fire on Sunday two firefighters, Fire Captain Tedmund "Ted" Hall, 47, and firefighter specialist Arnaldo "Arnie" Quinones, 34, were said to have been looking for a way out for personnel trapped at camp 16 when their truck was over run by flames causing the truck to go off the fire access road over the 800 foot cliff killing the two men. Fire Capt. Ted Hall was married and had to grown sons while firefighter Arnie Quinones was married and expecting his first born child in the next few weeks to come.
Fire stations in La Canada Flintridge lowered their flags to half-staff for Capt. Ted Hall and in Palmdale flags at numerous stations were lowered to half-staff for Arnie Quinones. This morning Governor Arnold Schwarzenegger was in Los Angeles giving a press conference about the fires and the two who had died. "Our thoughts and prayers go out to their families and their friends. Every Californian is grateful for their bravery and for their great service," he was quoted saying giving praise to all of the firefighters "Of course, they are my great heroes.".
All of the firefighters are California's heroes as they put their lives on the line to protect our homes and our lives. Everyone hopes that something will come along and help out these men and women to put this fire and all the others out before more lives and homes get claimed by the angry flames.
Latest articles