Hell in Nottingham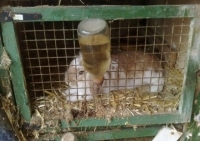 You'd expect much more from an organization such as the RSPCA than what they have been doing for a case in Nottingham, England concerning neglected and mistreated guinea pigs and rabbits. Instead of doing much about the situation, the RSPCA chooses to just let the case go despite being bombarded with cruelty complaints and photos taken by witnesses of the heinous crime. In a mass-breeding operation, a Mr. Hubbard keeps his animals in filth, where his guinea pigs and rabbits have contracted a slew of ailments, including infections, fungus, and other diseases and are condemned to living with other cagemates they fight with, which causes more injuries and suffering.
According to From Dusk 'til Dawn, an eyewitness described the situation:
"… We found two boys that he handed over, both look like they'd been attacked by something like a cheese grater, huge holes in their backs( open wounds) and sitting depressed and fluffed up the holes had infection oozing out of them and most of the hair had gone from their backs. They also had fungal on their faces and looked in agony! …they both died after around 5 weeks as the infection had gone on that long it had eaten their lungs away and gone deep inside of them.
"Photographs were taken but the RSPCA have never even asked to see them. The vets wrote a report on the boys Cosmic and Rocket for the RSPCA but it was never followed up…"
More of the description can be read here. On Facebook, those who wish to could view pictures of the cruelty occurring on Mr. Hubbard's property, including photos of yellow water bottle and the horrific conditions of the cavies and bunnies. These photos can be found here and here. [WARNING: Some of these photos may be graphic and upsetting. View at your own discretion.]
Due to the lack of help from the RSPCA, animal rescue groups such as the Avalon Guinea Pig Rescue have had to step in and deal with the problem themselves. Of course, this also means they need massive help, for example in getting the RSPCA to do something and donations.
For more information please visit:
Latest articles