Gun Violence Escalates In Sin City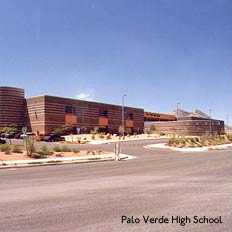 FRIDAY, FEBRUARY 15TH - A group of students walks along the sidewalk, traveling home after a long day of school and anxiously awaiting the three-day weekend ahead. Suddenly, a car zooms by them while gunmen inside open fire. The students duck to avoid the flying bullets, but one freshman boy is fatally shot and killed, leaving the other kids in shock as the vehicle speeds away.
Violent acts like this one flared up all over the Las Vegas valley yesterday. The students involved in this particular shooting attend Palo Verde High School, and though there were no other injuries, the boy's death is a shock to other students of the school. He was an honor student and in the school's band. Nearby Sig Rogich Middle School was placed on lockdown as a result of the shooting.
Two students at Desert Pines High School and Arbor View High School were found to be in possession of loaded guns on campus. No shots were fired, and the cases do not appear to be related at this time, but both events are being investigated.
Near Whitney Elementary School, a man was shot in the stomach after confronting a tagger vandalizing his property. The school was placed on lockdown for a few hours, but it was lifted around 2:00 PM. The shooter was a minor and currently faces charges of assault with a deadly weapon. If the victim – currently in critical condition at UMC – dies because of the incident, the suspect will face murder charges.
Another case of people shooting at each other from two cars was reported the same day. No injuries were reported, but police say several properties were damaged and that the crime could be gang-related.
Acts such as these have created problems all over the city. Property prices have consistently dropped due to the rising crime rate. In 2006, there were 152 cases of murder and 6,680 cases of aggravated assault. Both statistics are worse than the national average (source). The shooting at Palo Verde was reportedly "the first local school-related slaying of a student since 2000" (source). Las Vegas police are still looking for the vehicle.
Citizens are becoming increasingly concerned as a result of the increasing violence. More parents are driving their kids to school as opposed to letting them take the bus, or taking them out of school altogether and hiring a tutor to home school them. One parent has said that "It's getting to the point where they leave the house and you're not sure if they're going to come back."
Sources: Drive-by Kills Freshman, 2 Shootings Near Valley High Schools, Suspect Arrested For Shooting Near Whitney Elementary, Metro Investigates Shooting Near Idlewood & Lincoln.
Latest articles