12 year old commits suicide - Emo trend is blamed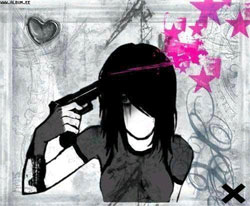 After the news of an American 13-year-old girl committing suicide, similar news astonish the public eye. Andrada, a 12-year-old girl from Bucharest, Romania, killed herself on Monday, May 12th by jumping off the 12-story building she resided.
Her classmates have stated that the young girl had recently joined the lines of the "Emo Cult", a teenage current that is accused of encouraging depression, self-mutilation, and even suicidal behaviour.
The girl lived with her mother, after her parents had divorced years before and, reportedly, she had been left by her boyfriend(who was several years older) a few days before. The neighbors spotted her coming home early from school,and going inside the apartment where she lived with her mother. Not much later, a strange sound was heard, and the dead body of the child was seen on the pavement, close to the building.
Andrada left a goodbye note, which contained an apology, but also the girl's accusation that her mother considered her a burden. She wrote that her mother could now "finally live, without the burden of having a problem child".
Teachers and neighbors describe the girl as being intelligent, well-behaved and considerate. School-mates, and friends, on the other hand admit to the girl having become emo, to wearing black clothes, Converse-type shoes, black make-up and all types of badges and pins.
The news of the tragic suicide of such a young person has brought the Romanian media and people alike in shock, after being practically in the dark about the "Emo" phenomenon. Special news editions are being held for the mere discussing of the subject of the Emo trend with psychologists and young "Emos" invited.
The public opinion is being deformed by all kinds of people making statements on who these young people are, putting a shadow of innocence and good behaviour on all other cultures and subcultures, even if those are reknown for violent outbreaks.
Emo or not, these things shouldn't happen - yet another pre-teen has missed her chance to life.
Latest articles