German eBay Baby Taken Into Care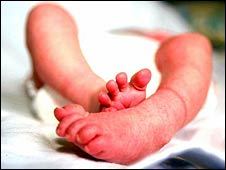 "It was only a joke. I just wanted to see if someone would make an offer." That's what the mother of the seven-month-old baby boy had to say to the authorities in Bavaria in southern Germany.
The baby's mother and father, aged 23 and 24, advertised their son as a "nearly new baby" and the starting price was one euro which is equal to eighty pence in the United Kingdom and one dollar and sixty cents in the United States.
A spokesperson for the German authorities said, "Detectives are investigating on suspicion of child-trafficking." The mother had told the police that the offer was merely a "joke" but the spokesperson said, "That's not yet clear."
During the two hours that the offer was online, no one made a bid, and the police were informed by "a number of internet users across Germany" who had seen the advertisement. According to the authorities the advert read:
"Offering my nearly new baby for sale, as it has gotten too loud. It is a male baby, nearly 28in (70cm) long and can be used either in a baby carrier or a stroller."
In some parts of the world like China child-trafficking can result in the death penalty. The eBay website clearly states, "Humans, the human body or any human body parts may not be listed on eBay. Examples of prohibited items include, but are not limited to: organs, bone, blood, waste, sperm, and eggs. You may not include such items as a gift, prize or giveaway in connection with an item listed on eBay. However, items that contain human hair (e.g., lockets) may be listed on eBay."
The "eBay baby" is now in the care of the German authorities.
Source: BBC NEWS.
Latest articles