Well, I got woken up at five AM by the fire alarm, went to class, read some of Sidney's
The Defence of Poesy
and ate chips with salt and sauce. Being that I am a native Northerner I cannot physically consume chips without gravy, but Scottish chippies have this thing called 'sauce' which nobody as yet has explained to me, even my family from Livingston don't seem to be sure exactly what it is. It's not as good as gravy but I think it's growing on me, whatever it is. Anyway. I also went for a walk up Arthur's Seat, which is essentially a massive hill right in the centre of Edinburgh.
This thing. The snow is gone now but I took that a month ago. It's pretty bad that I've been living here for five months and still haven't gone up there, so I decided that today was the day.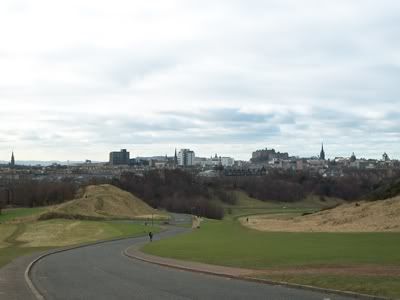 The view at the bottom.
Why is a Raven like a writing desk?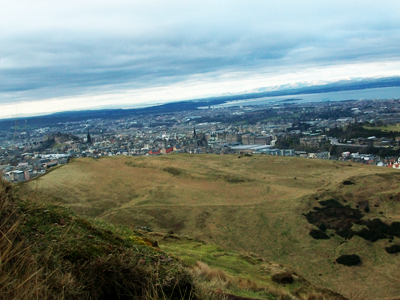 And the view from the top. Well, as high as I got, anyway. I'm actually rather scared of heights, not the most co-ordinated/balanced of people and I underestimated exactly how high up I'd be. I don't think it was dangerous since there were people jumping around on the rocks like wee mountain goats but I didn't dare go right up to the summit anyway.
Still, yay exercise. And I don't have to feel guilty about the chips.