The "close Gitmo" protest that San Francisco did today was very moving, the emotion this city has is one of the best things about it in my opinion. I've said this a few times, but San Francisco is a very emotional city when citizens decide to protest. Protesting in this city is almost a daily thing, it happens all the time. If you come here, you have no choice but to put up with "loud mouthed activists" as I heard someone call us today. This city goes all out with its protests and they're always full of emotion, this one was no different.
I wrote a journal about Guantanamo Bay earlier in the week,
you can read about the horrible conditions detainees face by clicking here
. January 11, 2012 is exactly ten years since Guantanamo Bay opened up. Every year on January 11, people across America protest Gitmo in a variety of ways. By the way, for those of who you are confused, "Gitmo" is the nickname for Guantanamo.
In Washington D.C, a group called
Witness Against Torture
has been fasting in solidarity with Gitmo detainees for ten days now. Today or tomorrow is their last day of fasting, I can't remember exactly which day they'll end. This group has also has a "caged vigil" going on in front of the White House. A protester, who is also fasting, has been locked in a cage since this protest began.
Today, the group created a human chain to represent the people being held indefinitely and tortured at Gitmo. Chicago did a protest outside of an event Obama was holding there which I love that they did this. Major admiration for Chicago for holding a "close Gitmo" protest right outside of Obama's event. Here in San Francisco, we held a rally and formed a small human chain. There were multiple other events today as well, but these are the three major ones that happened today.
Here in San Francisco we met at the Federal Building at noon. Those people who wanted to grabbed an orange jumpsuit and a black hood to dress as the Gitmo detainees must dress. When the jumpsuits ran out, they took to tying an orange armband around people's arms, that's what I had on. We had a lot of speakers from the various organizations who helped plan and fund this protest. The main organizer was Code Pink: Women for Peace. I know Code Pink a lot because they are a very big supporter of Occupy and thus help Occupy SF plan out our actions from time to time. We also had some musicians, all of them were really good. They're all local musicians who have a knack for writing activism songs. San Francisco has got a very good music scenes, our local musicians (from what I've seen) are always fairly good.
After about an hour, the organizers told us it was time to form the human chain. I opted to not be a part of it and instead filmed and took pictures, I'll start uploading the videos later so this journal just has pictures in it. The human chain had 171 people, each person carried the picture and name of one of the current Gitmo detainees. This was done because each protester represented one of the 171 detainees currently in Gitmo. Across the street from our Federal Building is the 9th Circuit Courthouse. Both sides of the streets were lined with protesters. Someone with a mega phone walked down the line as each protester read the name of the detainee they represented. After all of the names were read, we decided to do a small march before coming back to the original place to hear a few more speakers and musicians. Someone read some poetry that was written by the detainees at Gitmo, which I think was amazing. The detainees got one of the employees to publish a book of their poetry, I need to see if I can find a place to buy this book. It's called
Poems from Guantanamo
I believe if you want to look it up, it's a collection of poems written by the detainees.
There was one speaker who really got me. She came to speak because her son had once been threatened with Gitmo, the only thing that saved him was that Americans were once exempt from Gitmo. Before recently, Americans could not be sent to Gitmo. But because of NDAA, we too can now be sent to Gitmo. Each and every America now faces the threat of being kidnapped in the middle of the night and being locked away in Gitmo, we're no longer protected from being thrown into that place. Also because of NDAA, it is very hard for any person to be released from this heinous place. You get sent there, you may never leave. The woman pointed this out and said how scared she was for every parent because, had NDAA been in play when her son was convicted, her son would be at Gitmo right now. She said how sorry she felt for the parents of the current Gitmo detainees. Her speech really got to me , you could hear the pain in her voice and that she truly meant every word she said.
Everyone who spoke at this action had such amazing speeches and they were all very nice to listen to. Over the next two days,
I'll upload the videos to my youtube account which you can find by clicking here.
So check back there over the next couple of days if you want to see the videos. The entire action was very moving and, just knowing that the detainees inside of Gitmo are also protesting, is another thing that made today so moving. I don't know how that went, but the detainees currently in Gitmo got word of the day of action that happened today and wanted to show their thanks that so many Americans were standing in solidarity with them and standing up for them. The detainees planned to do peaceful sit-ins and do a three-day hunger strike. I don't know how that went or if the guards even allowed them to peacefully protest today. One can only hope these detainees were at least allowed that basic right of being allowed to peacefully protest for just one day. It's incredible that the detainees, after everything they go through, still have so much courage to stand up like they planned to. The fact that the detainees even planned to do this (on the chance the guards didn't allow them to in the end) is what made all of the actions done today so much more emotional and better.
Now I want to show you guys some photos. This first photo is of the cage we had. There were two protesters in this cage and they stayed in it throughout the entire action (which lasted from noon to 2:30pm)...
These next two pictures are of two of the signs some of the protesters had. The first says "Free cleared detainees". Out of the 171 people there, 90 of them have been cleared for release. Which means the U.S government has said they can be released without charge (no one at Gitmo has any charges and they very rarely get a trial, they are all indefinitely detained there). But these detainees are still being held at Gitmo for some reasons I can't remember. These people have been cleared for release, they need to get their release immediately. It is not fair to be keeping these people who have been deemed innocent at this torture camp any longer. The second sign says simply "Close Guantanamo".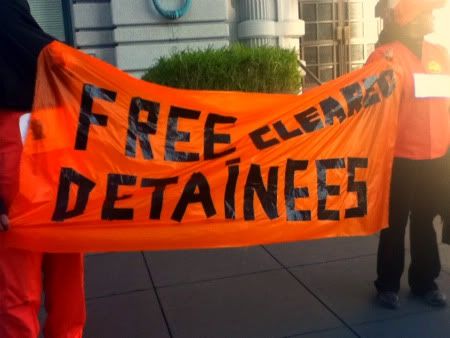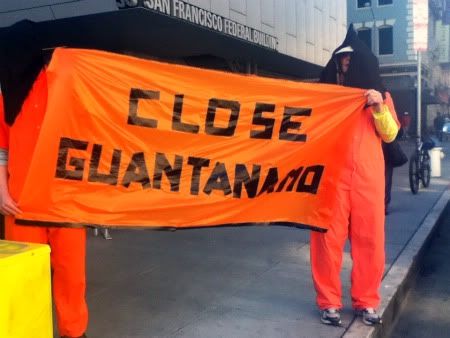 These next two pictures are of the human chain. The first one is the first part of the chain located in front of the Federal Reserve. And the second one is the second part of the chain, located across the street in front of the courthouse.