I love Hannibal, and I love gifs. So finding out that they can be used in almost every situation makes my life complete. Let me show you!
When I try to flirt with someone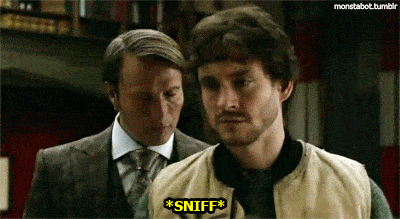 When mom makes my favorite pancakes for breakfast
When I see something that makes me happy
Those times when someone says something that ticks me off
What I imagine when I'm really mad at someone
The moment I realize I really messed up
When my alarm clock goes off in the morning
When my desperate guy friend tries to get me to introduce him to every female I come into contact with
When I find the perfect outfit in the morning
I love gifs.