So yesterday, I went to Monumentour and I got to meet Fall Out Boy and it was just... so amazing. It actually happened. For meet and greet, we did signings first and then pictures. We were given a greeting card which the band signed.
Greeting card: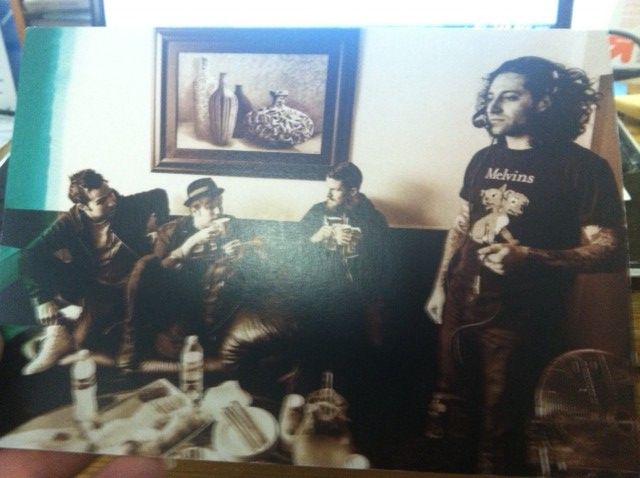 I also had Pete do something extra. I want to get a Fall Out Boy related tattoo, and my favorite FOB song ever is "I've Got a Dark Alley..." and I finally figured out how to incorporate that into my tattoo a while back. I want my tattoo to say 'Hopelessly hopeful'. So I brought a rectangle of paper with me and wrote the phrase in the corner and asked Pete to write that, which he did.
Here it is: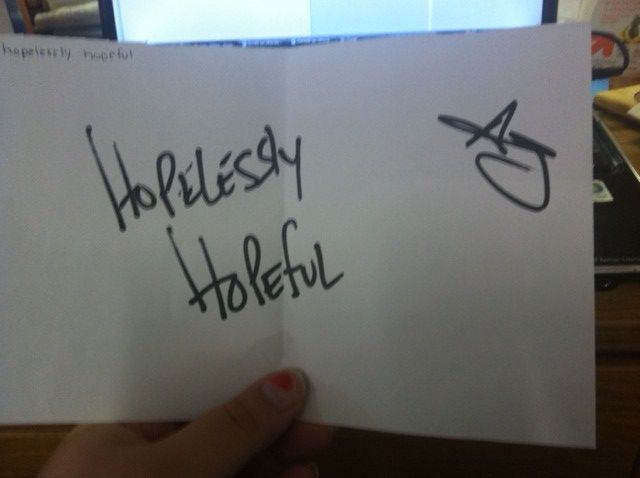 So then while Pete is writing this down, I'm kinda looking around standing in front of him and I look down and he's still working on 'Hopelessly' and I could see him looking at what I wrote and what he was writing to make sure that he was spelling it right. I could not handle it, it was adorable.
So then he's done writing it and he slides it down to Andy and he signed it, but I picked it up off the table after cause it wasn't meant to be signed. I hope I said something to Andy, cause I can't remember cause I was so nervous. Then Patrick was next and I shook his hand and he said "Oh I didn't sign your thing." And I didn't know how to explain that it was something separate so I was just kind of "Oh it's nothing--something else" I don't even know what I said. And then I got to Joe and I picked up my greeting card that they had all signed and I said "Thank you... Hi." And then I just kind of ran away. The whole thing was a blur.
Then after that I got back in line with my friends to get pictures done. My friends and I took the picture all together with Fall Out Boy, which worked so that we could stand next to who we wanted to, and I wanted to stand next to Pete which I did. So we all got where we needed to be and Pete said "We have to get really close." And he smelled amazing. Just saying. I still can't believe that I met them and that I got to touch Pete Wentz.
Here's our picture (I'm on the end, next to Pete):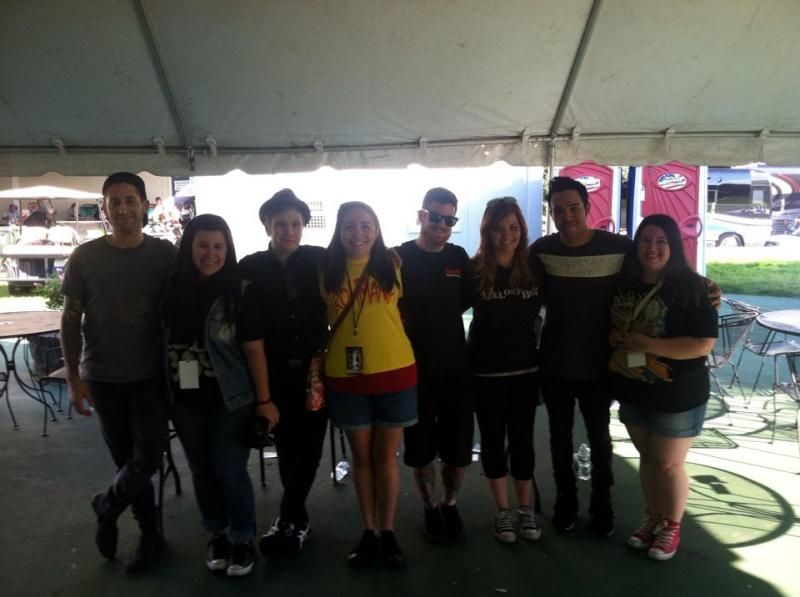 After the picture we went into the venue and got to the pit. Let me just start off by saying, this was the best pit that I have ever been in. Seriously. For New Politics and Paramore I was in the third row of people behind the barricade. But the people in front of us were really nice and after Paramore this one guy let me have his spot at the front of the barricade for Fall Out Boy, cause he was there mostly for Paramore. He was seriously the coolest. I still can't believe I got to be at the front of the barricade for Fall Out Boy.
But seriously. This pit was so great. There was no pushing or crowding, everyone was just having a great time. Such a great experience at this show!
Well, I think that's about it. Oh! And during Paramore I got one of Jeremy's picks! Woo!
Here's some pictures of Fall Out Boy that I took: