So this is about Motionless in White and how they hurt my feels. I just can't with them some time...I mean...I love them loads but sometimes I'm just like NOPE NOT TODAY MOTHERFUCKERS. Ever since Reincarnate came out I'm just like:
and like...they're all so fab now...like...I'm not going to lie I miss Angelo so much lol and I really wish he'd come back but the bae is tattooing now...by the way that's one of my life goals lol...get tattooed by Angelo lols....anyways...how can anyone not miss Angelo though? I mean...look at him:
that smile kills me.
this video gets me all the damn time lol #bless
much cry.
ANGELO STAHP OFMG.
but on top of that...you got these cute motherfuckers too.
Ricky has an obsession with Ryan's dick. bless him.
Ryan actually looks great with short hair. i'm just like HNNNGH.
oh and these cuties too:
BEST VIDEO EVER HOLY SHIT.
oh and of course my husband: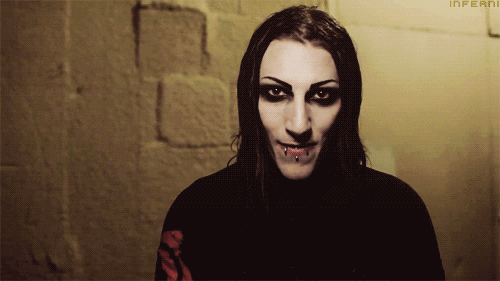 Fun fact. Ryan and Josh are so nice in real life. Josh asked me how I was doing last time I saw them lol it was cute and sweet. Ryan almost hit me in the face with his guitar though :') like no problem lol. Fun fact number 2: Chris remembered my dad the second time we saw them lols.
Ugh. I can't with these guys. My heart hurts and I'm just like *falls down and dies*
Speaking of Motionless in White....you guys should be super awesome and check out my MIW story,
here
. Naturally it's a vampire fic lol and the bae is in it.
Anyways....let's fangirl over MIW pls.