It's so strange, not having to update any stories here on Mibba at the moment. o_O
About a week ago (heh heh) I posted the last chapter to my story
Earth to Me
, the sequel to
Generation Why Bother
, and in a way, it kinda feels like the end of an era for me. Or something like that, I dunno. I wrote both of those stories when I was about to start new years of college and here I am in the beginning of my fourth semester, still not feeling like a grown-up.
Next Saturday I turn
twenty
for cryin' out loud. Twenty! I'm two decades old!
"From Under the Cork Tree" by Fall Out Boy and "All We Know Is Falling" by Paramore turn ten this year and those are albums I remember from my childhood!
I can't deal with this crap. I've been in a rut for a while now when it comes to writing and I can't really come up with anything new to save my life; for the past year, it's always been rewrites of old stories (like
Who Knows, Who Cares
) or spinoffs/oneshots/sequels of other ones (GWB, of course).
And I've got an idea on the backburner for now (a novel called
Born Lucky
), but it'll have to wait until I get my head on straight for that one. I want to write something fun, since WKWC was kind of a downer at times and
Earth to Me
made me really anxious about growing up. (I guess that's one bad thing about writing narrators who are sort of in your shoes.)
I dunno. I started writing because I wanted to read the kinds books I wrote (if that makes sense - like, wanting to read about a subject that nobody has written about) and I've been staying pretty true to that. But at the same time there's always that desire to actually
appeal
to people, which is something I still struggle with. I guess what I'm saying is that I write to cheer myself up, and it's just cool to hear that someone else likes it too.
'Bout a year ago I realized that at the heart of it all, my main goal with my art and writing is to just make people happy. That's probably why I'm terrible at killing characters (with a few exceptions) and writing sad endings. Bleh.
- - -
And speaking of ending
Earth to Me
, earlier I doodled a picture of Put'emup, Put'emup in what was probably their first "official" band photoshoot, circa 2009. XD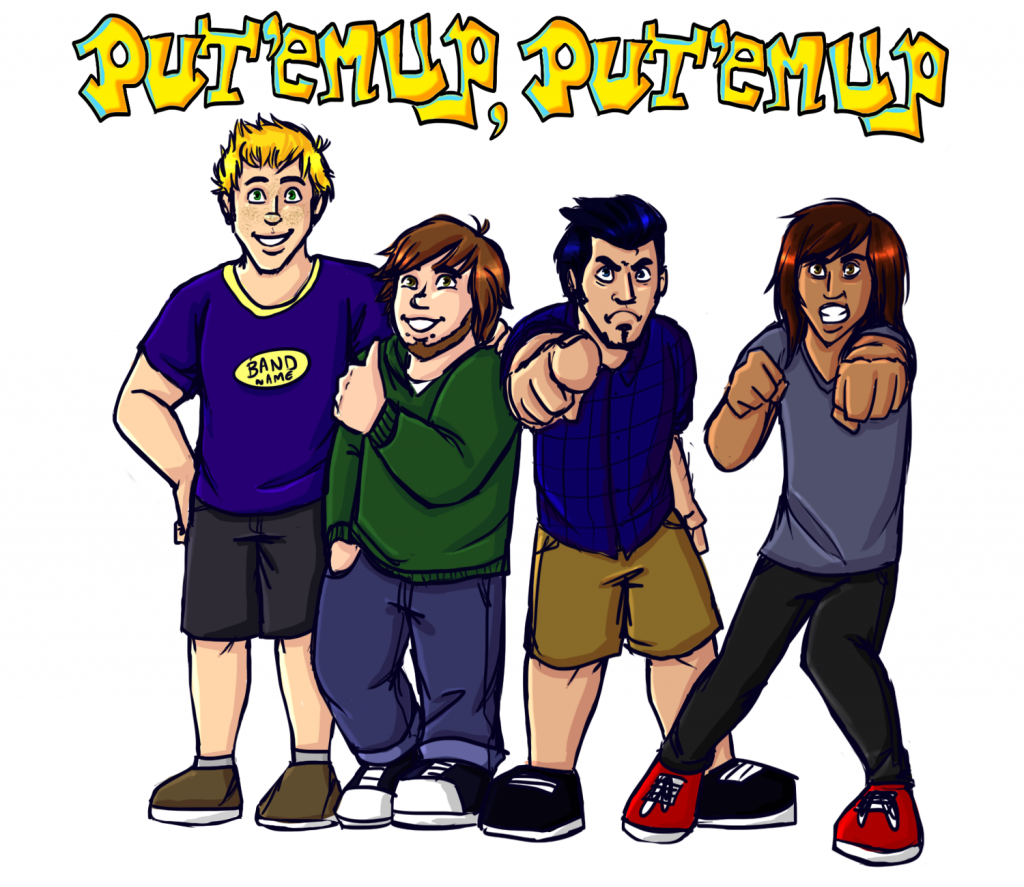 The photographer probably told them to pose like friends or something, and then Andy and Anthony were
dumb*sses
rebels and made stupid fake-growly faces, leaving Chance and Mick to look relatively normal. Yeah, that's it.
And I drew Alana from
Who Knows, Who Cares
a few days ago in a style that's kinda different for me, but I'm pretty okay with the way it turned out. I can't choose between these two versions, though.
There's such a specific "aesthetic" for that story that I've been trying to put into words or on paper as a drawing. So far, that's the closest I've gotten. I think it's something like late chilly nights in a semi-dead town, where there are only a few cars on the road and the distant hum of fluorescent lights. And school spirit of course, the smell of popcorn and concession-stand crap, stadium lights over a football field. I don't know where I'm going with that so I'll just shut up.
Have a great night! :D