Oh my god, GUYS EXO'S LOVE ME RIGHT
I'VE JUST WATCHED IT AND I'M JUST -
GO TEAM XIUMIN!!!!!!
SEE MY HUBBY HERE:
Oh my gosh guys, words cannot even describe how I'm so excited and how I've fangirled over this for the past few minutes.
BEHOLD! My baby-faced baby.
I'm not even - I'm so awake right now.
LOOK AT THAT SMILE!
Do you know how many panties have been dropped by that smile?!
ALL THAT I OWN.
Do you know how long I've stared at his face?!
EVER SINCE I'VE BEEN TYPING THIS.
Xiumin is so sly. He's like Swiper from Dora, seriously.
He had swiped my heart before I even noticed it
I need a warning you know. You can't just swipe my heart like that. SWIPER NO SWIPING D: My heart is very delicate.
But I swear, when I first saw Xiumin though...
It turned from: Oh, I think he's cute to:
... In the matter of seconds.
Now it's more of:
But while I was fangirling, my mom kept pestering me. Like she kept saying "psst" and telling me to go to sleep. And I'm just like - "gtfo i'm fangirling this is very serious"
And she suddenly got up and like stood in front of my bed just grinning like a mofo in front of me. I'm just - "ugh I hate you so much just go to fucking sleep"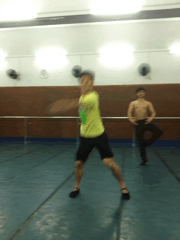 My mom does go to her bed and lies there for a few seconds. Then said "why do you even like those korean?"
Don't you dare say what's next.
"- they're so smelly and they don't shower."
OH NO YOU DIDN'T.
And then she goes "Oh I can't sleep if you can't sleep" but now she's the one snoring.
Okay, back to whatever I was saying.
OH XIUMIN
YOU KNOW YOU'VE GOT THAT THING THAT MAKES THE GIRLS SWING
YOU'RE LIKE A HIT AND RUN
And practically shot me through the heart and made me fall for you harder than someone who fell from the top of Mt. Everest.
You've made my panties drop faster than the speed of sound. Next time you come back, I'll record it and send it to NASA.
Oh my god.
Aaaaaaaand I'm dead.