I wasn't one of the many people that begged for toddlers. Though I enjoyed them in the Sims 3, I never understood the fascination that other Simmer had with the toddler. So, when news arrived that we'd be getting toddlers with a free update of our Sims 4 game, the Sims community exploded, while I remained skeptical.
I am currently busy with my
Legacy Challenge
and have only just reached my second Legacy. Her name is Caroline Estelle and she's a freelance DJ, who's only income comes from tips she receives while spinning at local clubs. She needs to have two children during her adulthood, which meant I would soon be introduced to
the toddler
.
The new toddler is a lot more work than the original Sims 3 toddler, but they are also a lot more independent. You can give them specific toddler traits, which range from difficult toddler, to charmer, to loners. Each of which add specific complications to their upbringing. I made my first toddler, named Delilah Estelle, a charmer. Which means that she doesn't fear strangers and can easily connect with caregivers and others in her surroundings.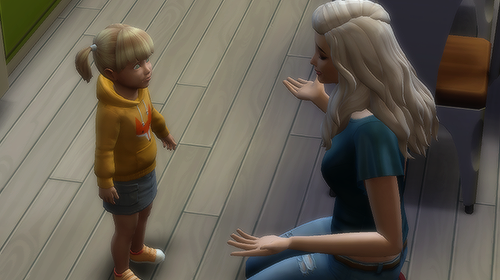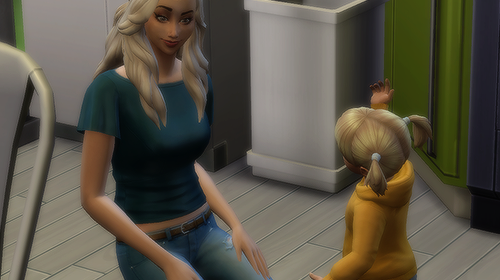 One of her downfalls, and I'm not sure if this goes hand in hand with her specific trait, is that she doesn't like to be seated down and taught to speak. Whenever Caroline sits down with her, she starts being fussy after a few minutes as she's tired of learning words. Luckily, her moody behavior is quickly and easily fixed with a few rounds of playful entertainment.
I also try and focus on my legacy sim, giving her the attention that she deserves. As she is the leading lady of this current challenge, I cannot neglect her needs. Which often leads to my toddler going out and exploring.
Warning:
Toddlers will wander outside if you're not careful, without adult supervision.
Clearly, Delilah thinks there's a great adventure outside as she always wanders off to the gardens. She also appeared there after her naps are done. When Caroline was outside watering her plants little Delilah just stumbled into the gardens and demanded her attention.
All in all, I like this kind of toddler a lot more than the way they were originally created within the Sims 3. I think they are a challenge, which could easily be skipped by aging them up without giving them much attention, though granted, if you skill up their respected skills you will unlock different traits once they age up. So, it is worth the hassle if you ask me. What those traits are? I don't know as Delilah is currently still terrorizing my house with her toddler ways.